VE3RMU Digi
144.390
VE3RMU digi is located on Prairie Mobile Communications 200' tower. 9 miles north of Nester Falls, Ontario on HWY 71 at an elevation of 1370' above sea level.
VE3RMU was re-installed as a APRS Digi in July-August 2004.
The antenna installation was done on July 31st. VA3EXT (myself) did the climb and ground crew consisted of Gary (VE3MOR), Bob (VA3UDP), Dick (VA3DIK), Joe (VE3EEX), and Leland (KC0IGT). We where attending the annual Camp 807 in Sioux Narrows and drove down to install the antenna.
The digi is consists of a 40 watt GE Mastr Exec II rack mount, Hamtronics LNG-144 pre-amp, MFJ-1270b TNC (rear), 1/2" heliax and an SRL-222 at 130'.
Click here to see the stations near VE3RMU Digi at findu.com
Front of the GE radio.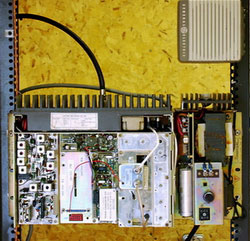 GE radio with the MFJ-1270b mounted on the back.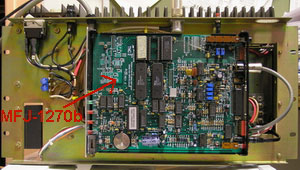 The MFJ-1270b is programmed with UIDIGI v1.9 Beta3
Here is Myself,VA3EXT installing the SRL-222 antenna.
The picture on the left looks north to Sioux Narrows, the right looks east over Kakagi (Crow) Lake
This one looks south to Nestor Falls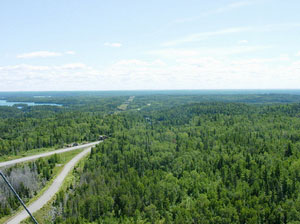 Here is looking down from the top of the tower.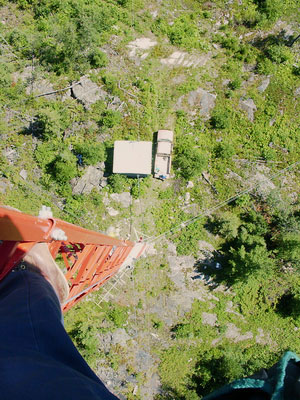 Hope you like it.