VE3RLC Repeater
146.820-
VE3RLC is owned and operated by the Rainy Lake Amateur Radio Club
The repeater is located about 1/2 mile north of Canadian Tire in Fort Frances on a Hydro One 200' tower. After being hit by lightning, the repeater was replaced with a new controller and radio.
The repeater equipment consists of a GE Exec II, 40 watt VHF radio, donated by Murray Ronald, VE4RE of Prairie Mobile Communications. It is run through a Sinclair 6 Cavity Res-Lok Q-2330 duplexer. The repeater is run by a Zetron Model 48 controller with autopatch. Richard Walczak, Service Technician & Manager for Kenora Mobile Communications donated his time to tune the equipment and get the repeater back running.
The VHF repeater antenna is a 4 bay, Decibel exposed dipole. It is mounted at the east side of the tower at about 170' and is fed with Andrews 1/2" Heliax.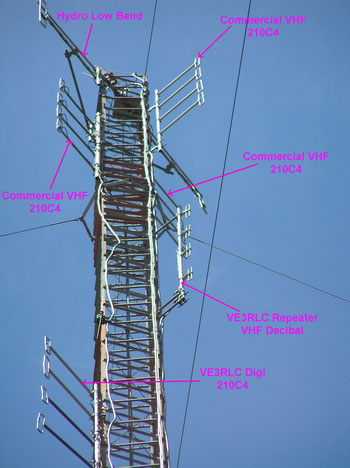 The VE3RLC digi was installed in the summer of 2005 and consists of a Motorola Micor 40 watt radio, 1/2" Heliax with a Sinclair 210-C4, 1/2wave exposed dipole antenna. It is run by an MFJ-1270B running on UIDIGI v1.9B3 software for APRS.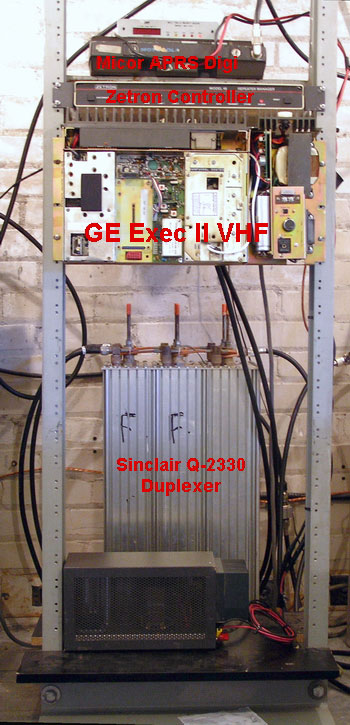 Here are the amateurs who helped get the APRS digi running where, VA3EXT (myself), radio work, and the ground crew consisted of VA3DIK (Dick McKeever) , and VE3JJV (Al Johnstone).
VE3JJV with the new APRS digi.