VE3RIB Repeater
147.120+
VE3RIB is owned and operated by the Atikokan Amateur Radio Club.
VE3RIB has since been relocated to the Atikokan Airport in 2016.
Check out the new site on their webpage.
After being idle for quite a few years, the repeater found a new home and equipment. The reinstallation took place in September of 2005 on an 80' tower with a ground elevation is 1550' above sea level, The tower was taken over by the Township of Atikokan from Shaw Cable, 3km east of Atikokan on HWY 11. A proposal was put together to the Atikokan Economic Development Corporation for a small grant to help get the repeater back in service, which will give the amateurs the ability to assist with emergency communications.
The repeater equipment consists of a GE Mastr II, 65 watt continuous duty VHF radio, donated by Murray Ronald, VE4RE of Prairie Mobile Communications. It also has the GE UHS pre-amp installed in the radio for extra sensitivity. It is putting out 40 watts to the antenna through a 4 cavity Sinclair F-150-4E Hybrid Ring duplexer, which was the only re-used equipment from the original repeater.
The repeater is run by a Communications Systems Incorporated CSI-8200D controller with autopatch, coming very soon.
The VHF repeater antenna is a 4 bay, 1/2wave exposed dipole, manufactured by Anitron Electronics Ltd. of Surrey, BC Canada. It is the equivalent to a Sinclair 210-C4. I think they are now out of business or have been bought out. It is mounted at the top of the 80' tower and is fed with 9913 coax.
Amateur radio operators can connect VE3RIB repeater all over the world to other amateur repeaters through IRLP using VOIP.
VE3RIB IRLP node #2768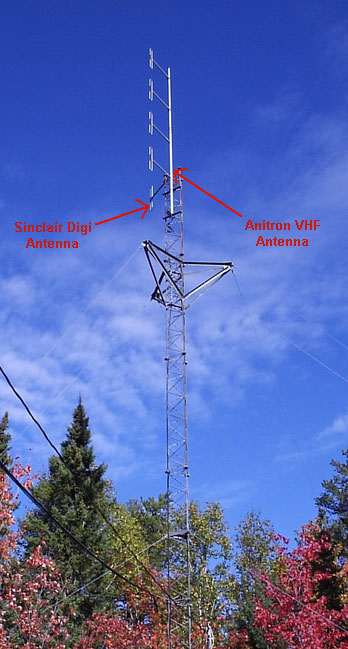 The VE3RIB digi is a GE MVS 40 watt radio, 9913 coax with a Sinclair 1/2wave exposed dipole antenna. It is run by an MFJ-1270B running on UIDIGI v1.9B3 software for APRS.
VE3RIB with the Environment Canada weather radio beside. 162.400MHz
Getting the antenna in the air.
Here are the amateurs who helped get the repeater back in service. VA3EXT (myself), did the climb and radio work, and the ground crew consisted of VA3DIK (Dick McKeever) ,VE3FYN (Warren Paulson), and VE3AKX (Vic Prokopchuk).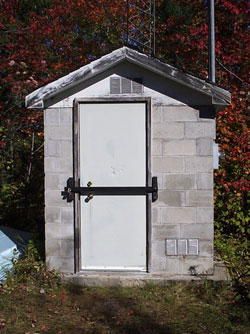 Here is the shack.