VE3RBK Repeater
147.045+
VE3BRK is owned and operated by the Rainy Lake Amateur Radio Club
The repeater is located just east off HWY 71, about 12 miles north of Emo, Ontario, on a 200' tower. It once was UHF linked to the Pine Tree Intertie System but had radio problems and became a stand-alone repeater. After being hit by lightning, the repeater was replaced with a newer Zetron Model 48 controller, Exec II VHF radio & Sinclair 210-A4 antenna. The antenna was replaced by VA3EXT (myself), and the ground crew which consisted of VA3DIK (Dick McKeever) , and VE3JJX (Andrew Kozlowski).
The linking to Sioux Narrows & Fort Frances where taken out of service in 1997 due to radio problems at both ends and no technical personal in the Fort Frances club to replace and service the old equipment.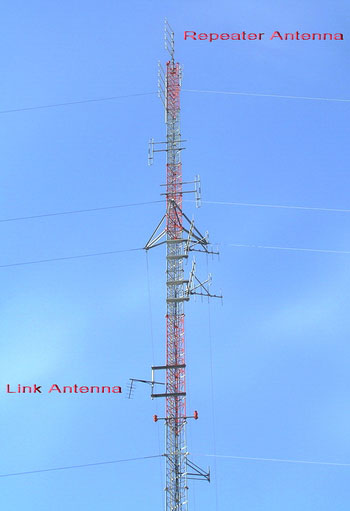 In March 2009 the VHF radio, with new frequency, and controller where replaced. This gave better repeater range and a UHF radio was added to link it back to Sioux Narrows, VE3RSN. Once again connecting to the Pine Tree Intertie System.
The repeater equipment now consists of a Motorola MSR-2000 , 100 watt continuous duty putting out 75 watts to the antenna trough a Sinclair 6 Cavity Res-Lok Q-2330 duplexer. The VHF receiver pre-amp is an Advanced Receiver Research (P144VDG). It is all ran by a Link Communications RLC-1 Plus 2 port controller.
Thanks to Paul, VA3PC, the Motorola MSR-2000 VHF radio was donated from Ontario Provincial Police surplus, as they upgraded their system to Fleetnet digital.
The link to Sioux Narrows consists of a GE Exec II, 20 watt rack mount radio, a 6 cavity Sinclair MR-356 duplexer, and a Larsen YA-1-420, 8 element UHF antenna pointed north towards Sioux Narrows.
Here are the guys from Fort Frances that look after the site and helped with the project. Warren Paulson, VE3FYN, not pictured, came all the way from Atikokan to help. Myself, VA3EXT from Dryden, did all of the radio work and tuning at home, prior to installing the equipment for Blackhawk & Sioux Narrow link project.