ARSD Field Day June, 23 & 24, 2001


Object: To work as many stations as possible on any and all amateur bands (excluding the 30, 17 and 12-meter bands) and in doing so to learn to operate in abnormal situations in less than optimal conditions. A premium is placed on developing skills to meet the challenges of emergency preparedness as well as to acquaint the general public with the capabilities of Amateur Radio. It is also a test for clubs and members to get prepared for emergency operations when called upon in disaster situations.


The Amateur Radio Society of Dryden took part in the annual North American Field Day June, 23 & 24.

Arnie(VA3NOL), Scott(VA3EXT), and Leo(VE3ASS) were involved in setting up the station. Trailer supplied by Leo(VE3ASS) other equipment such as generators and batteries were supplied by Bob(VE3YDN). He could not attend.

Antennas were a 6 meter(50MHz) 3 element beam and a G5RV, multi-band HF wire antenna 80 meter(3.5MHz)-10 meter(30MHZ). These were on a 50 foot mast.

Field Day Started at 1:00pm local time on Saturday and lasted until 1:00pm local time Sunday.

Arnie(VA3NOL) & Scott(VA3EXT) ran the radio equipment until the evening when Rick(VA3RGA), Gary(VE3MOR), David(VE3NHD), Scott(VA3MCS) and Joe(VE3EEX), stopped over for a few hours to take some shifts making contacts with other Field Day stations trough out North America. Arnie(VA3NOL) & Scott(VA3EXT) ran the radio equipment through the night taking turns having a few zzz's.

To name a few, contacts were to Puerto Rico, Hawaii, Alaska, Newfoundland, British Columbia and Florida.


Station was taken down at 1:00pm local time by Arnie(VA3NOL), Scott(VA3EXT) & Leo(VE3ASS).
Here is Arnie,(VA3NOL), Leo,(VE3ASS) & Scott,(VA3EXT) setting up station at Spring Water Trailer Park.
Arnie & Leo
Arnie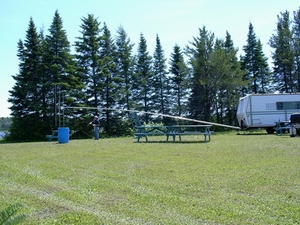 Scott checking antennas with the analyzer.
3 element 6 meter beam and a G5RV
Scott & Arnie posing at the station. Picture taken by Joe,(VE3EEX).
Arnie running the station. A Icom 746, an MFJ-969 tuner, a D-104 mic, an HP Pavilion Notebook batteries and two generators.
157 contacts were made in the time allowed.
We would like to thank all those who helped set up, run the station and stopped in for a visit.
VA3NOL & wife, VA3EXT & wife VA3SMO, VE3ASS, VE3EEX & friend Earl, VE3MOR, VE3NHD, VA3MCS, VA3RGA, VE3VNM & wife VA3SJM, VE3MLF & friend, VA3RBK & wife VA3CLE, AG4EZ & wife KG4KYW.
This is what Amateur Radio is all about.