Associazione Radioamatori Italiani
Sezione di Capri
CQ WW SSB 1997
---
This year contest has been a completely new experience for us, after many years setting up stations on the various peaks of the island. We finally had authorization from the Association "Amici di Cetrella" to use some rooms of their club on a mountaintop for our purposes. It is just a beginning..........
The operator "Murphy", like usual is always present, in fact just few hours before the start we lost our 14 KW generator, and the parts have been replaced only the monday after contest (sigh!).
We had to bring on our shoulders, like all antennas, tranceivers, cables and all, also another generator for low power devices......
For this reason we were not able to use our multiplier station, well showed from the poor number of mults worked.
Next contests, will be in any case all "field day style", being this part of the island without AC and without possibility to install permanent antennas.
Of course, according to weather conditions we will try to be active for all mayor contests, but lightning danger is really high, not only for electronic equipments.
The call will change every year, according to all members.
---
IC8JAH 1997 ( dedicated to the memory of Mario Schettino, IC8SDA - Silent Key)
Qsl via IC8SDL
---
1997 Antenna setup
Hygain 204 on right - Hygain 3 el 15-10 m, and 40 meters rotary dipole above - Loops and dipoles 80-160 meters
---

Luigi, IC8GVV, erecting the "20m" pole, really heavy, but no problems for him
---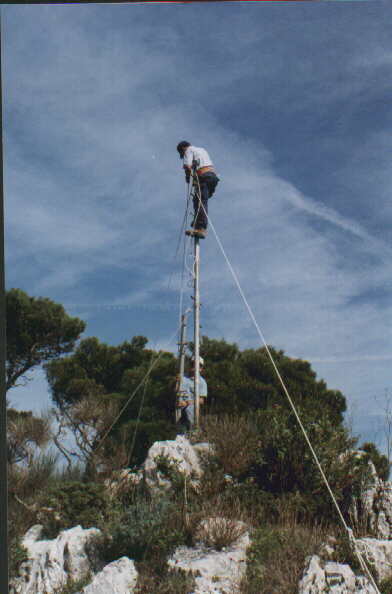 Well, if you think that is just for the week end.....
At the base Tony, IC8WIB gives tips to Luigi

---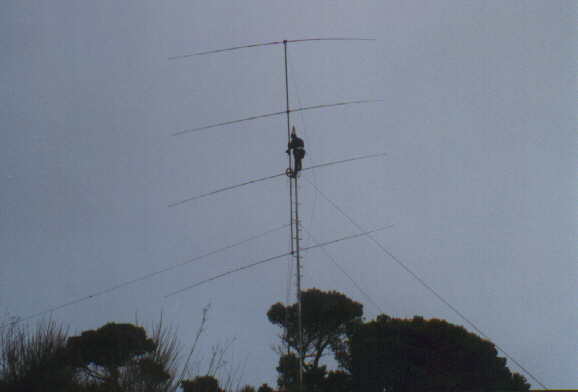 And now it's time to put antennas up, even if weather is not really nice
---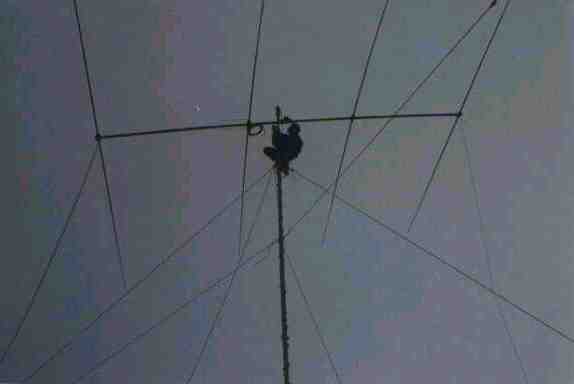 Finally the 20 meters yagi well positioned

---

Tony, IC8WIB, our antennas expert, after the effort. (don't forget to see the landscape on the background)
---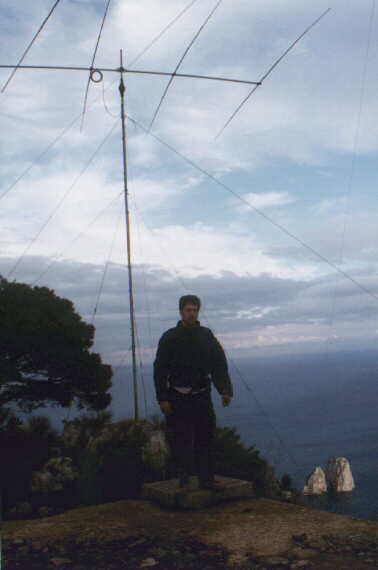 Luigi, IC8GVV, freezed, down from the towers

---
Please proceed to page n. 2
---
Comments are welcome to our e-mail
Back to homepage
---
---
IC8WIC, GianLuca Salvia page design &copy