THE ART OF THE QSL CARD
When I was a young girl, I used to enjoy receiving letters from across the world. Now that I am a ham, I enjoy receiving QSL cards from across the world. Some are art in themselves and others tell stories about the individual ham or the ham's location. This page celebrates the art & beauty of the QSL card as well as the links of friendship between hams across the world.
6K5REL
Sometimes nice photographs are included with the QSL Card!
6K5REL HOME PAGE
9K2UB
This card was designed and printed by 9K2UB. Look at other beautiful QSL cards he has designed.
A41LZ
I was happy to make this contact on 17 meters and just as happy when I received this beautiful QSL card!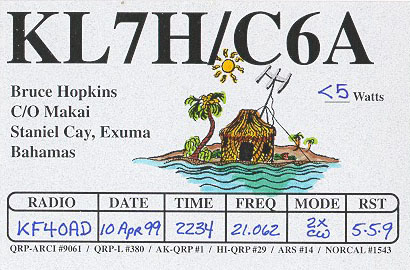 C6A/KL7H
My first DX CW contact.
KL7H's wife, Tosh KL7WW is an artist who made the basic sketch for this card. They do a team effort on the coloring of each card which is a fun way for the two of them to spend time together.
KL7H home page
GM4LGR
A special prefix to celebrate the Scottish Parliament
I2ZLG
My first 12 meter contact.
I2ZLG made this photograph of St. George Castle (Gonzaga-Rigoletto).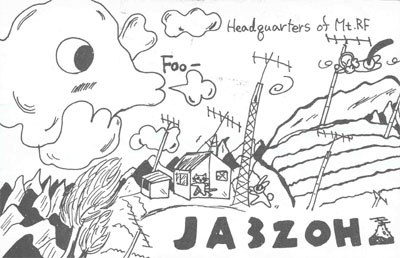 JA3ZOH
I like the design of this QSL card.
I worked JA3ZOH on both CW and SSB during the 2000 ARRL DX contests.
I was amazed that he heard me on SSB from my stealth station, and with no repeats!
Obviously, an exceptional operator!

N6ZZ
I first met Phil N6ZZ on the air from North Carolina. This is his new New Mexico QSL card. This BEAUTIFUL Qsl card was made from a photograph taken by Phil's XYL. See some other beautiful cards from N6ZZ's DX expeditions.
P43E
My first HF QSO with another YL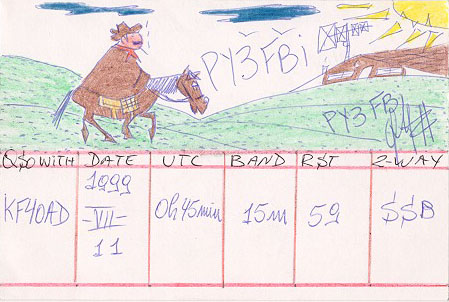 PY3FBI
This card is hand drawn and unique! An original.
TM1CW
Bien que je parle français, je n'ai jamais eu l'occasion de le parler aux francophones à la radio! Celle carte-ci, c'est une de mes préférées.
---
---
LINKS TO OTHER BEAUTIFUL QSL CARDS I HAVE RECEIVED

ANTENNAS
Nothing is as beautiful as a good antenna!!!
And I should know----I have had to work from stealth apartment antennas!
See if you can spot my antenna!
US QSL CARDS
---