AEØQ: 1998 ARRL 10M CONTEST
Whoever would think a contest and a QSL card......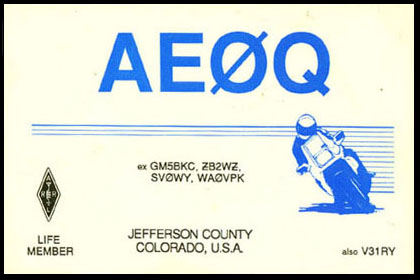 In the 1998 ARRL 10 meter contest, I had a QSO with AEØQ. He sent me this nice QSL card.
Little did he know, I had been looking for a CW partner locally for 6 months---all to no avail. Sure, I had passed my 13wpm code test ages ago but I wanted courage and confidence to use CW on the air. And I was setting up a RTTY station the weekend I got this card.....of course I had to write him! Little did I know, I was one of his first SSB contacts in 20+ years!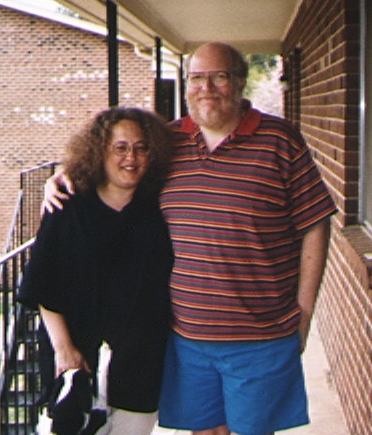 We started having skeds on the air in January, and finally met in person
in early April, 1999, after 3 months of CW on the air!
It was "love at first dit" as W0UN said when he heard our story..
(Thanks to Paul AA4XX for taking the picture of us)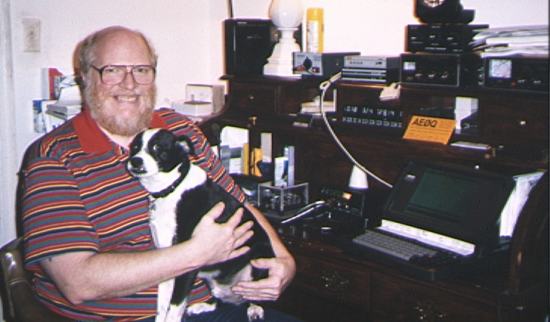 Glenn AEØQ and Dante at Merri's station in North Carolina :
Ten Tec Scout, Vibroplex Iambic Paddles, KAM-Plus, PK-96,
homebrew 40m Double-bazooka antenna fastened to apartment
balcony ceiling, indoor 20m dipole.
---
OUR WEDDING
On August 25, 2000, Glenn AEØQ and Merri ABØMV got married after CW skeds on the air and several airplane voyages across the country.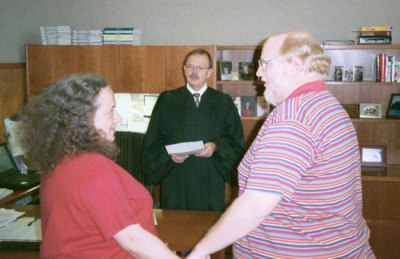 Naturally, knowing our story, John K4ZI and Leslie KØKI brought a straight key to the wedding. It almost got confiscated by security!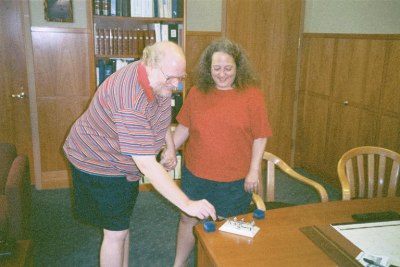 Glenn said "I do" in CW as well as voice!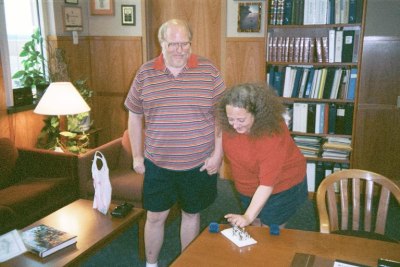 And so did I!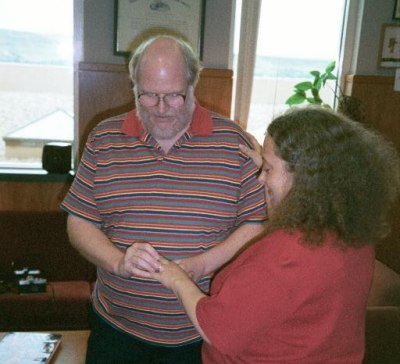 Glenn putting on my wedding band.

December 2000 during a break in the ARRL 10m contest