AA3SJ
---
Coast to Coast Bicycle Trek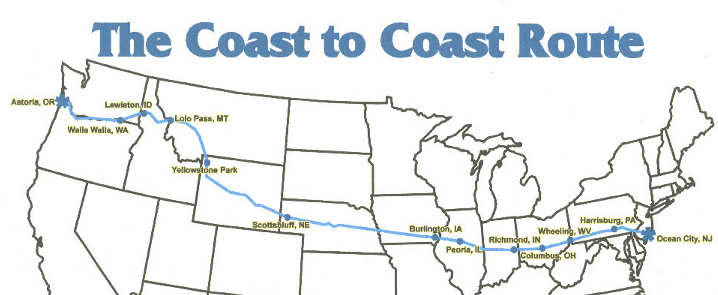 ---
Intro
In the Fall of 2000 I was privileged to be part of a coast to coast bicycle trek. Out team consisted of three riders (Mike Ford, Eric Kauffman and Ed Kessler) and two support personnel (Dick and Jeanette Schmoyer). We were raising money for Camp Hebron, a Christian camp in Pennsylvania. The journey began in Astoria, Oregon, on August 13 and ended at Ocean City, New Jersey, on September 23. The total mileage topped 3500 miles and we averaged about 100 miles per day. We crossed 13 states.

Unfortunately, just before Wala Wala, Washington, I came down with a fairly rough case of heat exhaustion which caused me to miss out on completing all the miles. I needed a couple of days to recover. My initial goal was to ride the complete distance, but since that goal was not able to be realized because of the heat exhaustion, I decided to ride at a less strenuous pace and help with the support team when I wasn't riding. My total mileage was just a little over half the trip. We joke that I got stuck in Nebraska. Even though it was disappointing to not ride all the miles, the trip was a great way to see the country and to help Camp Hebron. Mike and Eric rode the entire distance!

Ham Radio on the Trek
No, I wasn't "bicycle-mobile." I was not going to add another ounce to my bike, but I did manage to take a ham radio along on the trek. I used a Small Wonders 20 meter transceiver that was totally self-contained in one very small enclosure, including batteries and keyer. The rig was setup to transmit at 2 watts with the enclosed alkaline batteries. My antenna was a tuned 20 meter dipole which I attached to a tree as a sloper. Time for ham radio was very limited on the trek, but I did manage to work three QSOs, one of which was an arranged schedule with W3TS in Pennsylvania, and another was with V51AS in Namibia. I just about fell over when V51AS heard my reply to his CQ. At that point my antenna was about twenty feet up in a tree sloping to the ground! Amazing! Here is my log:
| | | | | |
| --- | --- | --- | --- | --- |
| Date/Time | Frequency | Station | Reports | Comments |
| 8/18/2000, 5:30 Pacific Time | 14.028 | AC6TS | 579/559 | John in San Diego from Kamiah, ID |
| 8/27/00, 4:00 Mountain Time | 14.023 | W3TS | 589/549 | Mike in Halifax, PA from Riverton, WY |
| 9/15/00, 6:15 EST | 14.011 | V51AS | 559/519 | Namibia from Wolf Run St. Park, Ohio!!! |
Photos
Unfortunately, I have no photos of the rig I used or of me operating it. I wasn't intending to do a web page regarding the trek, nor was ham radio the focus. To ride across the country in six weeks took a lot of concentration and most of the time when we weren't riding, we were exhausted! However, I thought I'd include a number of photos that we took along the way. These are just a sampling of the hundreds of photos that were taken. What a beautiful country!
The Team

Dick, Eric, Mike, Ed, and Jeanette

We originally intended to sleep in tents, but at the end of
most days we were just too exhausted to set them up, and
we slept in the RV.
The Ceremonial "Tire-Dipping"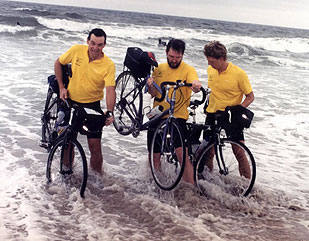 Dipping our rear tires in the Pacific and our front tires in the Atlantic.
Oregon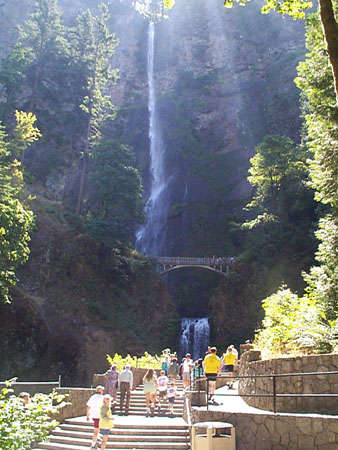 Two photos of Multanomah Falls along the Columbia River Gorge in Oregon. I am the person in the photo on the right. As it turned out, I fell in love with Oregon and, strangely enough, the beginning of the trip turned out to be my favorite part of the ride. I'd go back there tomorrow, but for the work I've taken on!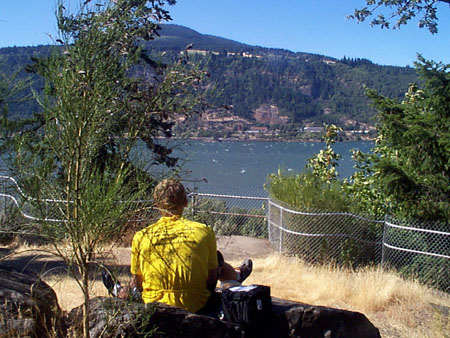 Watching wind surfers at Hood River as we eat lunch.
Washington

Along Route 12 just before Dodge Junction. When we left the
riverside everything became arid and dry.
Idaho

The ride along the Clearwater Creek, Idaho.
Montana

Arid western Montana. On this part of the trek we consumed
an average of ten 16 oz. bottles of liquid a day.

Earthquake Lake, Montana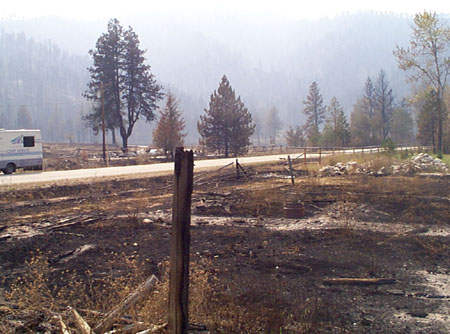 Our lungs burned as we rode through areas where wildfires were
still smoldering near Sula, Montanna. We saw wildfires in Idaho,
and Montanna.
Wyoming

Talk about a place to eat lunch! The Grand Tetons, Wyoming.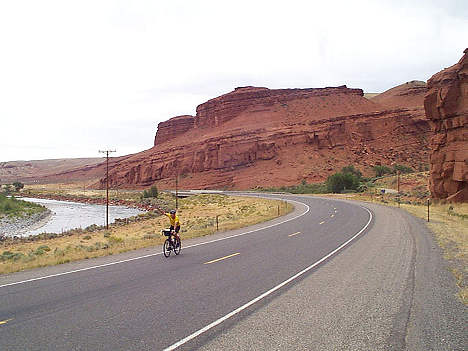 Mike riding through the Red Rock Canyon, Wyoming.

A bit of sight-seeing. The Orgeon Trail ruts near Guernsey, Wyoming.
Wyoming is the headwind capitol of the world! We usually averaged about
17 mph along the ride, but from Riverton to Casper we bucked headwinds
that slowed us to a mere 5 mph. If we stopped pedaling, we stopped moving.
Nebraska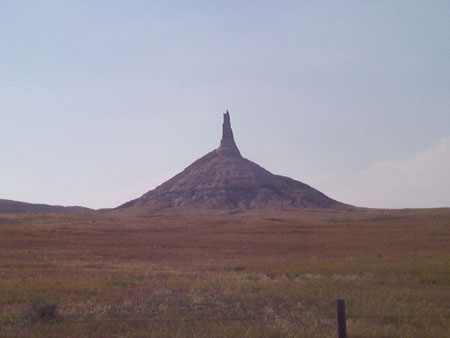 Chimney Rock, Nebraska. Couldn't miss it. Everything else was flat.

A "cowjam" near Oshkosh, Nebraska.
Iowa

Making fun of all the corn in Iowa.
Illinois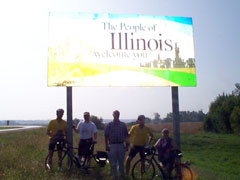 We didn't spend much time in Illinois.
Indiana
For some reason I don't have any digital photos of Indiana. That doesn't reflect on the state of Indiana as much as it does on my mood at that point in the trip. All I remember is trudging along against stiff headwinds as we worked our way toward Lafayette, Indiana. Slow, dreary going. Mike's parents live in Indiana and we spent several days resting there and meeting with our families who had driven from Pennsylvania to visit.
Ohio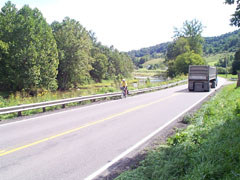 We were nearly run over by coal trucks in Ohio as they sped
toward the Ohio River.
West Virgina

We had a 25 mile ride through West Virginia along Route 250.
Notice the mountians? PLEASE notice the mountains!
Pennsylvania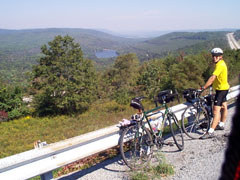 Most cyclists avoid Pennsylvania because of the mountain
ranges which divide the state, but Pennsylvania never looked
so good after five weeks on the road.
New Jersey at last!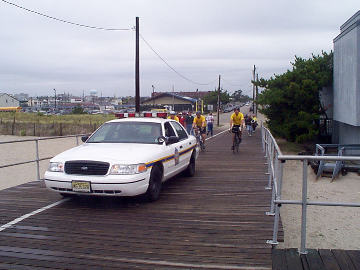 A police escort led us through Ocean City, New Jersey and right up
the boardwalk to the ocean where our families were waiting to greet
us. 3500 miles later! My wife drove during the 3 1/2 hour trip home
to our house in Millersburg, PA.
What did we do while we weren't riding, you ask?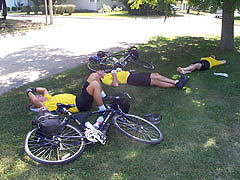 This picture might give you a good idea!
---
---