50 MHz Transverter
Introduction
I began working on a transverter for several reasons. Over the years I have enjoyed operating during 6 meter openings, but I presently don't have an HF rig that includes the 6 meter band. There are a few manufacturers who produce 6 meter transverters, Elecraft, Down East Microwave and Ten Tec. The Elecraft and Down East Microwave units are well made, and from all reports, good performers, but they are quite expensive. The Ten Tec unit performs well, but I preferred an IF on a different frequency. Ten Tec uses 14 MHz. (Note: at present, April 1, 2006, Ten Tec is not shipping transverters due to a parts availability problem.) Finally, I simply wanted the challenge of building my own.
Design Overview

The circuits that I used did not originate with me, and although I modified them for my purposes, I do not want to take credit for their design. I will attempt to reference all of these sources throughout this web page. As always, Mike, W3TS, generously provided explanations and suggestions as I was working on the project.
The original RX Converter and the TX Mixer circuits were designed by EI9GQ and can be found on his web page, EI9GQ Home Brew Radio Page.
My RX converter uses BF998 dual gate MOSFETs in the preamp stage and the mixing stage. I started with this topology because I wanted to experiment with the BF998 which is a surface mounted device. This converter exhibits high gain and high sensitivity, but may suffer from degraded dynamic range performance. At my QTH a crowded 6 meter band is very rare so I decided to try this approach. However, the board is separate from the other stages of the transverter so that I can replace it with a better circuit, if the need arises.
I wanted to use an IF on 28 MHz, but this required a 22 MHz signal for mixing. I had difficulty finding a 22 MHz crystal or a 22 MHz oscillator, so I opted for an 18 MHz IF. I had several 32 MHz crystals in my pile of stuff.
The TX mixer also uses a BF998.
The TX amplifier stages are modifications of circuits published in Experimental Methods in RF Design, by Hayward, Campbell, and Larkin. I will not provide the schematics for these stages but simply note the page references and the changes I made.
The T/R board uses the circuit designed by NB6M, Wayne McFee, in the Miniboots Amplifier. I incorporated two DPDT relays to switch DC, the 18 MHz IF, and the antenna to the RX and TX sections.
The 32MHz Oscillator
This is the same 32 MHz oscillator that I used in my Progressive Receiver and was recommended by, Wes Hayward, W7ZOI.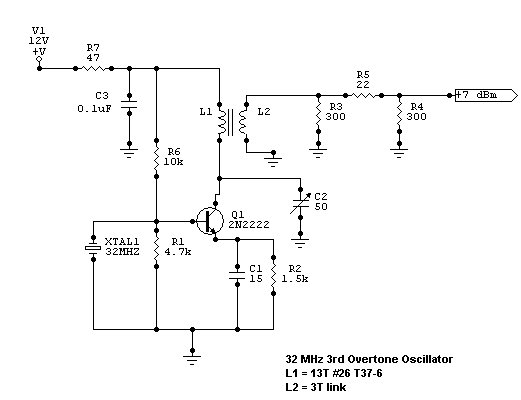 The RX Mixer
I modified EI9GQ's circuit as follows:
Toroids were used instead of IF tuning coils.
7-35pF trimmer capacitors, and a 10-70pF trimmer (C9), were used instead of fixed capacitors in the tuned circuits.
Wherever possible, SMT components were used, including the BF998 dual gate MOSFETs.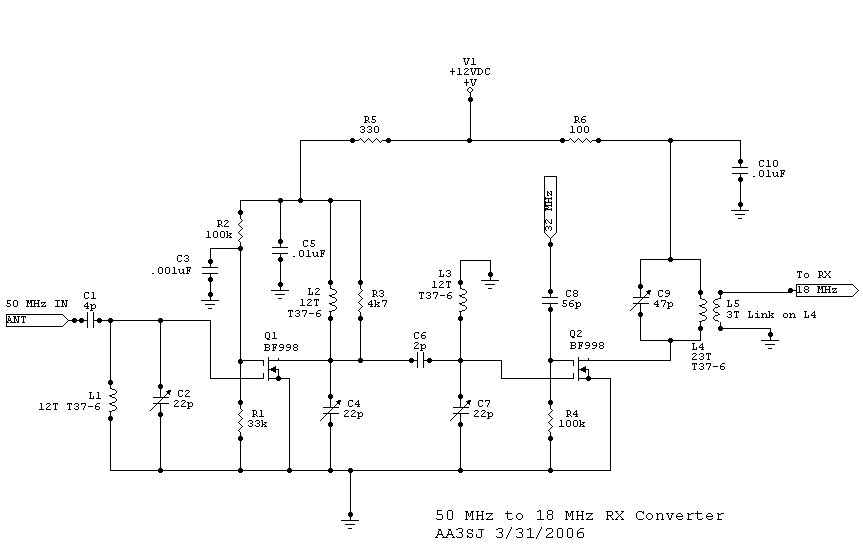 The TX Mixer and First Amplifier Stage
The TX mixer is also based on EI9GQ's design with changes noted below:
Again toroids were used instead of IF tuning coils.
And, again, 7-35pF trimmer capacitors were used instead of fixed capacitors in the tuned circuits.
I stuck with using SMT components and the mixer is another BF998 dual gate MOSFET.
EI9GQ specified R1-R3 to be 1 watt carbon composition resistors. His transverter required a 3 watt drive at 18 MHz. I found that I only needed 100-200 mW of drive to saturate Q1. A further increase in drive level produced zero increase in output. Thus, I used only three 1/2 watt resistors for R1-R3 - they barely get warm.
Also, EI9GQ used a fixed 2k2 resistor in series with gate 1 of the BF998, noting that adjusting the value of this resistor would adjust the drive level. Hence, I installed a 2k trim pot in its place. After tune up and testing, the 2k trim pot was at minimum, and although I left it in the circuit, it could be omitted.
The changes in required drive levels between my circuit and EI9GQ's probably results from differences in MOSFETs. He used a 3SK45.
The input SWR of the TX Mixer is 1.4:1.
The amplifier stage using the MAV 11 is a circuit I copied from Experimental Methods in RF Design.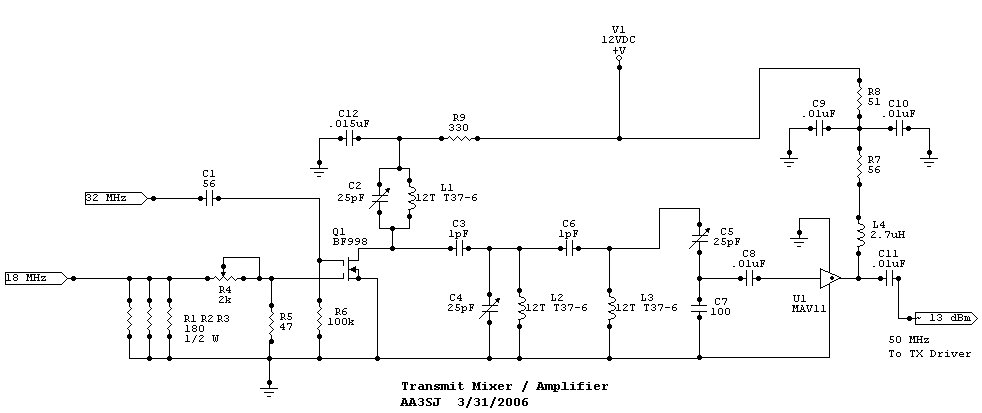 T/R Circuit
As I stated earlier, the T/R board uses the circuit designed by NB6M, Wayne McFee, in the Miniboots Amplifier.

The only difference is that I incorporated two relays.

Increasing C3 should increase the transmit / receive timing, but I haven't tried this.

I used RG174 from the relays to all the boards with the exception of the 12 volt line.

The diodes across the relay coils are 1n4004.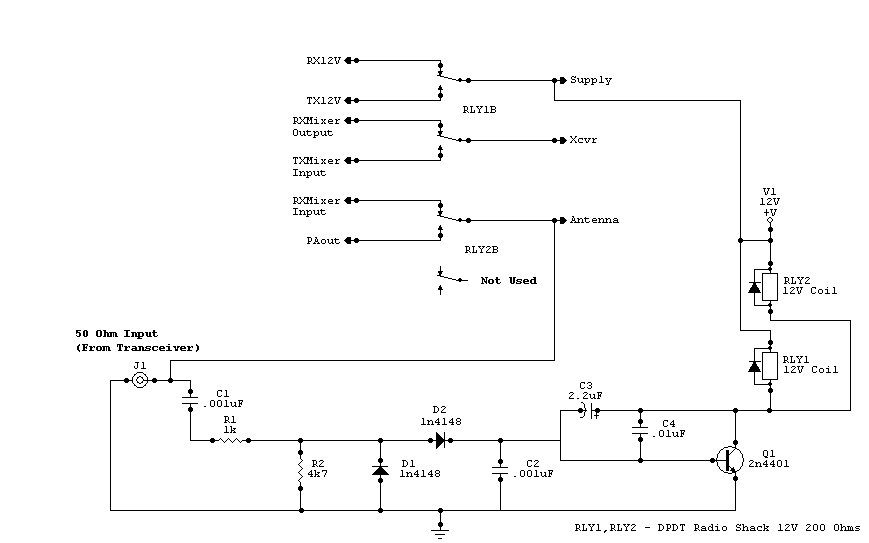 The TX Drivers and Amplifier Stages
The schematics of these stages are found on pages 6.88 and 6.89 in Expermental Methods in RF Design. Here I simply list the minor changes that I made.
Changes to Figure 6.154
T1-T3 in the original circuit were wound on Fair-Rite 2843002402 cores; I used 5 bifilar turns on FT37-43 toroids.
I used only one stage of the low pass filter, stopping with the capacitor directly after L3. Be sure to reduce the original 133pF specification to about 75pF, if you do the same thing.
My transistors were different: Q1 - 2n3866, Q2 - GE294 (3.5W, 225 MHz), Q3 - GE297 (3.5W, 500 Mhz). The last two transistors were in my junk box for years just begging to be used. Heat sinks were placed on Q2 and Q3.
The output of this stage in my circuit is about 400 mW.
Changes to Figure 6.156 (Power Amplifier Stage)
The only change I made here was to use a different transistor for Q1. I used another junk box find - a GE332 (16W, 220 MHz, TO-220, with a heat sink).
The output of this stage is about 6 watts.
Construction Photos
RX Mixer Board (showing "dremeled" pads for SMT construction and my 1/10" grid paper drawing)
RX Mixer and 32 MHz Oscillator (clipped together for testing)
RX Mixer and 32 Mhz Oscillator Closeup
TX Mixer and PA Sections (in enclosure for testing; the PA section is partly hidden by the mixer board mounted above it)
Just Before I Installed the Enclosure Lid
---
---