Story so far
The beginning
I was first licensed on 01.06.1990. My first allocated callsign was YT2MN. I am a member of Radio klub 'Slavonski Brod' 9A1CRS. Before I received my licence, I bought my first radio equipment in March 1990. For that purpose, I went to Sarajevo (now, Bosnia and Herzegovina). I purchased Kenwood TS-520S along with Hy-Gain 5-band vertical antenna 18AVT/WB from a Bosnian amateur (I cannot remember his callsign).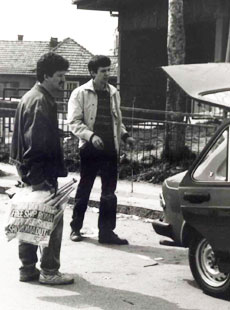 From the first day of operation and because I did not have any VHF equipment, all operation I conducted was on short-wave, on all 5 major HF bands. During that first period of activity I was very active on HF. By the end of the 1990. I have worked 199 DXCC entities. It was at the peak of the sunspot cycle, so propagations were very good. I worked very, very much, so I managed to burn down power transformer of my old Kenwood radio. So I sold it and bought second-hand Icom transciever IC-730 in Slovenia. I used it for a couple of years, sold it and finally I bought Kenwood TS-690S (from 9A8DX) which I use today.
Chasing DXCC
My main goal on HF was to work new DXCC entities as many as possible. In 1993. I applied for my first DXCC award. At that time I had 239 countries worked. At the end of 1995. my DXCC score was 262. Propagations went down rapidly so it was very difficult to work new entities, especially with my vertical antenna. I was not satisfied with that and I dreamed of buying better antenna for my station. But at that time, I couldn't find it on the market. So I started to loose interest for working on HF bands.
New beginning
In 2000. I finally purchased my first directional antenna. It was Fritzel FB-33, 3-element triband yagi antenna. I bought it from a friend of mine, Toni (9A2QO) who had the antenna for many years but couldn't make it work due to limited space and lack of antenna tower.
I didn't have antenna tower myself, so I constructed my antenna system based on tilt-over mast. Lower part was 120 mm tube, 4 m long and upper part was 41 mm tube 10 m long. You can see all of this in gallery page of this website.
So at 13.09.2000. I started to work again, with my new yagi antenna!!! Oh, what a change it was!!! So I enjoyed to work again! Finally it was possible to work all those rare pacific entities I dreamed of before. Use of Internet DX-cluster helped a lot to increase DXCC score...
Nowadays, I have 334 DXCC entities worked (last one Z68AA/p) and 334 confirmed (last one Z68AA/p).
MY ADDRESS:

Zlatko Feric

Primorska 28

HR-35000 Slavonski Brod

CROATIA