3GØY - Easter Island


---

Zone 12 - IOTA SA-001
Chilean-German DXpedition - March 04 to 19, 2001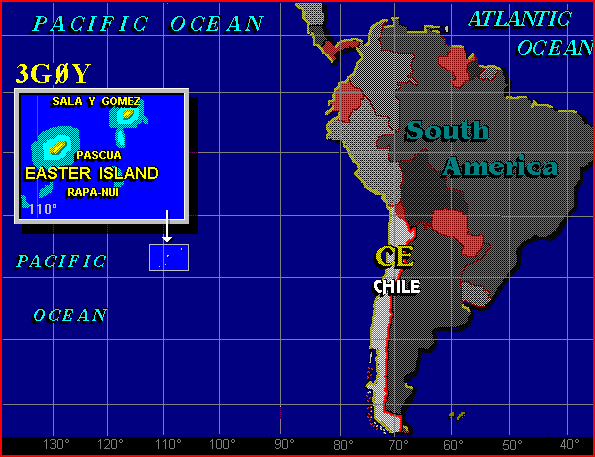 3GØY Pictures | Easter Island Pictures | Operators | News and online log
Other DXpeditions
The stage
A Chilean-German DXpedition will activate Easter Island (CQ Zone 12, IOTA SA-001) between March 04 and March 19, 2001.

The callsign will be 3GØY.

QSL via DK7YY.

Click here to take a free stage tour!
The performance
The performance will take place on all HF bands, mainly in CW/RTTY, with an emphasis on the low bands and the WARC bands, including 30m.
The actors
XQ1ZW (Danilo) - CE3WDD (Alfredo) - DK1BT (Fred) - DK7YY (Falk) - DL2OAP (Tom) - DL3DXX (Mar) - DL7UFN (Jan) - DL9NEI (Norbert)
Click here to see pictures of the operators.
The stage equipment
3 x ICOM IC-736 (including power supplies (of course...) and 6 meters with 100W)
1 x Yaesu FT 757
3 Power amplifiers (2 x 500 W, 1 x 750 W)
4 Laptops
2 Sets of Dunestar TX filters
1 PTC II for RTTY and PACTOR
2 Titanex Verticals V80 for 160, 80, 40, 30m with a special tuner
1 Titanex Log Periodic LP5 for 20, 17, 15, 12, 10m
2 Butternut HF9V (40-10m)
1 5 ele Yagi for 6m
The audience
If you enjoyed the performance, have got a new country or band and mode, please take a minute time and sign our
The audience list
An online log will be available here on the
3G0Y news page during and after the DXpedition. <! http://wwwiti.cs.uni-magdeburg.de/~hoeding/hamradio/3g_search.html>
Performance news
Click here to read about the
latest news of the DXpedition.
Performance souvenirs
QSL via the German QSL bureau DARC to:

DK7YY

or direct to:

Falk D. Weinhold, DK7YY
P.O.Box 700 343
D-10323 Berlin
Germany

Be sure to include a SAE and 1 IRC or 2 US$ for return postage. Extra donations are welcome.
Sponsors
We would like to express our thanks to the following sponsors of our DXpedition:
DARC Ortsverband Löbau S04
3GØY Pictures | Easter Island Pictures | Operators | News and online log
3GØY Diary | Other DXpeditions
---
visitors | Web Design by DF3CB | last updated Apr 23, 2001