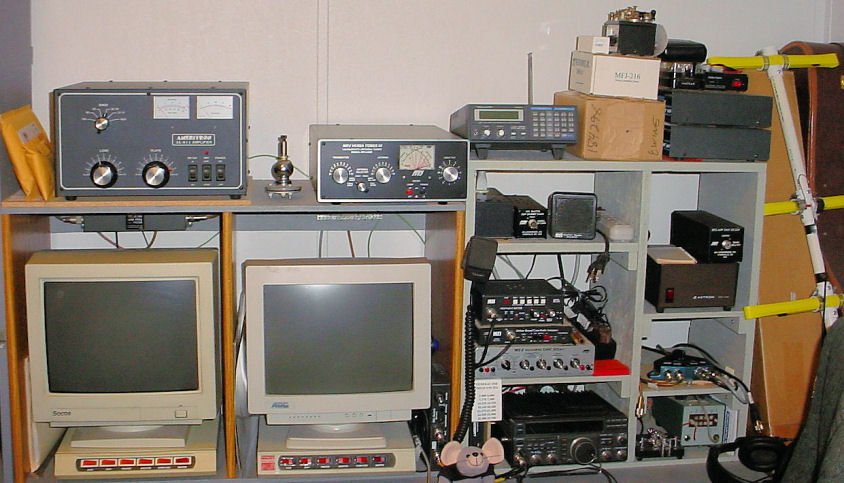 After essentially being off the HF bands for several years, I erected several low dipoles in 2007. I finally finished working all the U.S. counties that year and started on DXCC. Despite band conditions and low antennas, I've done reasonably well. The dipoles are for 75, 40 (also usable on 12 and 15 meters), 20 (also usable on 17 and 6 meters), and 10 meters.
The heart of the Station 1 consists of a Yaesu FT-890AT transceiver, one of the best little radios I've ever used. This unit is usually run barefoot, but occasionally gets some help from the Ameritron AL-811 amplifier and MFJ-962B antenna tuner. Accessories include an Ameritron ICP-240 In Rush Current Protector for the amplifier, MFJ-784 DSP filter, MFJ-1279 Deluxe Sound Card Radio Interface for RTTY and PSK-31, MFJ-434 Voice Keyer, Ameritron ARB-704, an MFJ-1262 Mic Switch, an MFJ-281 Clear Tone external speaker, Bencher BY-1 paddles, and an Astron RS-35M power supply.
I have not been very active on CW for some time, however I still enjoy it and sometimes pick up a DX station using it. It is interesting to run QRP, and while hunting DX I have been a little more active on CW.

This station has been used very little since 2011 when I was diagnosed with terminal prostate cancer. I now use Station 2 almost exclusively and may soon be selling most of Station 1.