I was first licensed as KE6DCE in September 1993 when I passed my Technician Class test in Apple Valley, CA. My main interest at that time was to keep in contact with Bill using a 2-meter handheld, which I still do today using that same Realistic HTX-202.
Bill and I founded the Pueblo West Amateur Radio Club on August 15, 2009. The enthusiasm of the new group inspired me to study for my General License.
In October 2009 I fell and broke my arm near the shoulder. Not being able to do much, I found that the accident provided a great opportunity for me to study for my upgrade.
I decided on a whim that when the ARRL 10 Meter Contest was held in December I would try to make 10 contacts. Conditions had been very poor on that band, and I had never used an HF radio before. I used our portable rig, a Yaesu FT-897D set up on the breakfast bar and a 10-meter dipole at 12'.
The 10-meter band was in very poor shape on Saturday, with only an occasional signal making its way through the deep fades. I checked the band throughout the day and made 8 contacts in CO, TX, CA, OR and WA. About three hours before the contest ended on Sunday, conditions improved. MS, FL, GA, AL, AR, LA, and two Brazilian contacts were put in the log for a total of 32 contacts for the weekend.
I was hooked on HF now and more determined than ever to get my General License. I passed the test on February 13, 2010.
Since I was now living in the Tenth Call Area, I decided I should have a "0" call, and I had found that my old call was not easily deciphered by other stations on SSB. I received my Vanity Call on March 19, 2010.
I have been an ARRL member and Volunteer Examiner since 2010.
Last 10 DX Stations Worked
| | | | | |
| --- | --- | --- | --- | --- |
| CALL | DATE | BAND | MODE | COUNTRY |
| ZF1A | 7/9/2011 | 20 | SSB | Cayman Islands |
| RG4F | 6/30/2011 | 20 | SSB | Armenia |
| OM2VL | 3/26/2011 | 15 | SSB | Slovak Republic |
| EA1KP | 3/26/2011 | 15 | SSB | Spain |
| LY21A | 3/17/2011 | 17 | SSB | Lithuania |
| V25OP | 3/10/2011 | 10 | SSB | Antigua |
| LP1H | 10/30/2010 | 20 | SSB | Argentina |
| CW5W | 10/30/2010 | 20 | SSB | Uruguay |
| ON509Q | 9/30/2010 | 17 | SSB | Belgium |
| VK7XX | 6/19/2010 | 17 | SSB | Tasmania |
While I am still attempting to work all the states, I especially enjoy making contacts with foreign stations and am slowly working toward the ARRL's DXCC award. My bands of choice are 17 & 15 meters when they are open, running 90 watts on SSB. I also enjoy 10 meters where low power and low antennas still work well.
I use paper QSL cards, LOTW, and eQSL (to AG Verified stations on request). If you would like to have a printed QSL card for a contact, please send your card with a BUSINESS SIZE SASE, or QSL through the Bureau, as my cards are 4" x 6" and will not fit in a standard size envelope.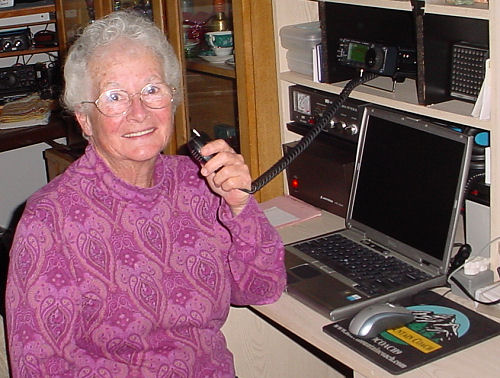 Bill bought a radio for me. so now I have my own! It is an ICOM IC-706MKIIG. I haven't used it much, but I'm primarily working PSK31 with an occasional SSB contact.
In 2011, my station was used as a single transmitter, multi-operator QRP digital entry in the Colorado QSO Party. It was the winning entry in that category in Colorado, and we received a plaque. We again had the winning entry in that division in 2012.