Fox Hunting
What is Fox Hunting
Fox hunting is a sport or contest where someone hides a hidden transmitter (the fox) and the hunters try to find it with the quickest time or least distance or combination of both. It can be a lot of fun for all involved. Most fox hunters enjoy the experimental aspect of fox hunting, building antennas and equipment and trying new techniques. You will learn something if you go fox hunting.
Who are fox hunters
Fox hunters are mostly hams, although non-hams can hunt too, since this activity only requires receiving the fox.
Fox Hunt in India
It was in the late 70s and early 80s when DX hams from Germany visited Bangalore Amateur Radio Club and spoke of the 80 meter fox hunting. This kindled the enthusiasm here. But as usual the lack of proper techniques, portable HF receivers etc put off the sport for some time and it was only in the late 80s when the VHF band became popular that it re-emerged.

The first known and recorded fox hunt in India was held in Bangalore on 9th April 1989. The Fox was OM Ganesh, VU2TS located himself behind the Jakkur Flying Club on the outskirts and more than 11 teams took part. Thus Fox (Transmitter) hunting was born in Indian soil.

Since then Fox hunts have improved a lot. Bangalore has held more than 11 day fox hunts and 4 night fox hunts. Other parts of India also have their share of such events. Chennai has had about 7 to 8 fox hunts, Kerala about 5 and Mysore, Coimbatore, Kodaikanal, Kolkata & Mumbai have had just a couple of such events.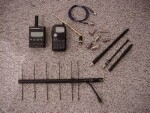 What equipment is needed
First you need a two meter receiver or transceiver. Preference is for a dual band HT with a meter on it for indicating signal strength.

You need a portable antenna. A small quad or 3 element yagi on a mast that can be simply held out the window while a partner drives will work. Build your own or buy one fitting your needs. Some hunters have elaborate rigging to allow the antenna to extend out the side window and be turned while in motion. Still others with sunroofs put special mounts to allow the antenna mast to run into the vehicle.

You also need an attenuator of some sort to knock down the signal. This can be very simple from a variable resistor in line with your antenna or up to a calibrated step attenuator. These items can be built for a few dollars in parts. If you don't have an attenuator, your s-meter will be full scale when you are close to the fox.

A map of the area you will be hunting in. This is probably the most overlooked item. Even if you know the area you are hunting in, a map is good for plotting your bearings. This allows you to triangulate your bearings to pin the signal down to a specific area and arrive there with the least mileage and time. Use a clipboard or similar and cover the map with a piece of clear plastic. Use a grease pencil to plot your bearings. Then you can reuse the map.

A compass. If you don't have a compass, you won't know which way your antenna is pointing. When using a beam antenna, you sight with the compass to get a bearing on the signal relative to north.

Optional equipment.

UHF HT for receiving the third harmonic. When close in hunting, sniffing around on the third harmonic of the fox is a good way to get real close. If you are not good at multiplication, carry a calculator to multiply the fox frequency times 3.

UHF beam. A small quad or yagi to use as a third harmonic sniffer antenna. A 5 element beam with a good front to back ratio and narrow beamwidth is preferable. You will need your attenuator for this too.

An active attenuator. The active attenuator is a simple oscillator/mixer circuit that is designed to mix a 1 MHZ signal with the two meter signal with an adjustable level. By varying the 1 MHZ signal level you can keep the signal going into your receiver at a lower level where the s-meter won't be full scale. Your radio also will not suffer the overload from the signal getting through the case like you can have listening on the fundamental frequency.

Another item to have is a dual antenna time of arrival DF. These units can be bought in kit form for as little as $20. The simple ones have dual antennas that are electronically switched and produce a tone into your receiver that is kneeled out to get a line of direction. The more elaborate ones have meters or direction indicators that provide an unambiguous bearing. The simple ones give you a line the transmitter is on but they don't tell you which of two directions the signal could be in. You have to use other means to determine direction. The better ones can tell you left and right and you will know the exact direction.
Build it yourself
Building a two meter beam is an easy project to try. We will attempt to work through building one during this course. We will need a short length of PVC pipe, some stiff wire, coax and a connector.

Building an attenuator is a little more difficult, but can be done for a small amount of money.

One type is a variable attenuator using a 1k variable resistor, 2 antenna connectors and a small metal box. This will allow up to 45 dB attenuation.
Another attenuator is the beyond cutoff, that is pretty indestructible. This attenuator uses several pieces of brass tubing that act like a feedline. By moving the tubing apart, the center pins come apart, increasing attenuation. Up to 80 dB of attenuation can be achieved with this type.

A simpler version can be made using coax connectors, making them such that when slightly unscrewed, the signal is attenuated. This will work, but not as well as other type attenuators.

Probably the best type would be the switched step attenuator. This type will require a long metal box, several switches, a junk box full of resistors, and two antenna connectors.
Resources
Probably the best source of fox hunt information is in the "TRANSMITTER HUNTING---Radio Direction Finding Simplified" byJoe Moell KØOV and Tom Curlee WB6UZZ. This book can be purchased from the ARRL HQ book store. It contains a wealth of information on transmitter hunting. His web site is K0OV

There are other many sites on the internet that you should visit.The ARRL also has chapters in their Radio Amateurs Handbook on transmitter hunting. The ARRL antenna book also had some information on fox hunt antennas.


Web sites to visit that contain fox hunt information
The internet is packed full of fox hunt information. Most of these sites below have links to other sites.

http://www.frontiernet.net/~n2ki

http://members.aol.com/BmgEngInc

http://www.qsl.net/n6qab/index.html

http://w3.one.net/~jelmore/index.html

http://home.att.net/~wb8wfk/projects.htm

http://www.mindspring.com/~sam.smith/gro

http://members.aol.com/Arrow146/index.html



Acknowledgements: Information in this page gathered from Ernest - W8EH & IIH - VU2IIH websites.