---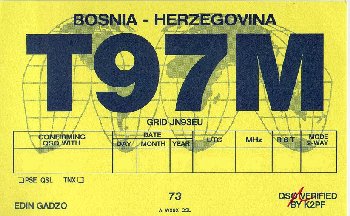 I am born March 04, 1963 in Sarajevo. I started in HAM radio in 1978 as a member of Radio Club "FAMOS" YU4EFR (now T91EFR). From the very beginning I was interested to work Contests and within DX portions of the 40m and 80m bands. My first major activities in contests were as a member of 4N4Y and YZ4Z contest crews.


From the May 1993 I am signing T97M. Since then I made some 50,000 QSOs on all bands (including 6m and 2m). T97M shack is equiped with: borrowed KENWOOD TS-690SAT, home-made HF QRO 1KW, ICOM IC-290R and Tokyo HighPower VHF QRO 100W. Antenna system consists TH7DX tribander on 10m tower, 40m full-size vertical and 16el. YAGI for 2m. Plan for spring is to put up a 4el. YAGI for 6m and bigger tower (if have enough money in my pocket HI).
TH7DX on 10m 'Tower', 40m vertical and SAT TV dish
For theperiod from May 1993 til Dec 1996, QSL manager for contacts with T97M was Felix DL8OBC. I was not pleased with his services and since Jan 1997 my QSL manager is Ralph K2PF. Ralph is well-known QSL manager and surely one of the Top-Ten in the world. If you are looking for QSL manager who will take care about every received QSL and help you get DXCC/WAS/WAZ awards then do not look any more. Send mail to K2PF and arrange details or just visit his WEB page.
The last few years of contesting I was active with other members of Sarajevo Contest Group Contest. We were active as T9A (WPX CW 1994 and IARU 1994) and T9DX (WW SSB 1996, WW CW 1996, ARRL CW 1997, ARRL SSB 1997 and WPX SSB 1997) all in Multi Single categories. Lately I am mostly active as T97M in Single Operator - Single Band categories (on 20m).
Do not forget to visit pages with details from my Cyprus and Kuwait Dxpedition. I hope there will be more pages with details from my future DX activities.
---
This page is last updated on 24.Apr.1998.
copyright BCC inc. WEB publishing division