More About Ithaki Island

---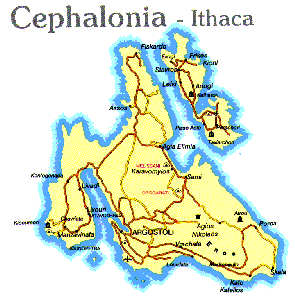 Ithaki is located southeast of Kefallonia. It's a beautiful island with countless small gulfs.

History Of Ithaki
The smallest island (after Paxi) of the lonian Islands (96 sq. km. - 37sq miles; pop 3 648) is composed of two mountains joined by an isthmus.
The steep west coast contrasts with the eastern shoreline which is less stark and more welcoming.
Ithaca is famous as the island of Odysseus and corresponds closely to the descriptions in Homer's Odyssey.
Schliemann began his archaeological career on Ithaca in 1860 by digging on what he judged to be the sites described in the Odyssey.
Subsequent research by scholars and excavations carried out in 1930 by the British School at Athens have confirmed the Homeric story and identified the places where Odysseus, his father Laertes, his wife Penelope and their son Telemachos lived.
When Byron visited the island in August 1823 (commemorative plaque in Vathi) he found it so beautiful that he considered buying it and living there permanently.
Ithaki was inhabited by the end of the 3rd millennium B.C.
The interest, though, of the archeologists is focused in the period when the king of the island was Odysseus at around the 12th century B.C. It was then when the Greek were off to conquer Troia.

Beaches
Tsirimbis, Paliokaravo, Aetos and Piso Aetos are some of the beaches on the island.

Sports
The gulf in Frikes and the gulf of Molos are Ideal for windsurfing and sailing .

Night Life
Ithaki is a quiet island. Therefore discos and bars can be found in Vathi. Discos can also be found in Stavro and in Frikes.

Transportation
From Patras to Vathi there are 1 to 2 ferries daily (distance:53 nautical miles, duration:5 hours).
From Astakos (Etoloakarnania) to Vathi there is 1 ferry a day (duration:2 hours).
For more information contact the Coastguard of Patras tel. (061) 341.002, 324.817 and the Coastguard of Ithaki tel. (0674) 32.909.
By bus from Athens to Ithaki once a day. For more information contact KTEL in Athens tel. (01) 5129.498.