---
SCCARA 70 cm repeater and N0ARY packet BBS site at Alexian, Sept. 20, 1998
---
(each jpg about 0.2 MB)

This is our repeater cabinet (top) and N0ARY packet BBS cabinet (bottom) in the equipment shack on the roof of Alexian. In the top cabinet are two repeaters, the top half is the old 2 m repeater--not active, and our 70 cm repeater in the bottom half. We had a new 2 m repeater temporarily active at the residence of club member Patricia "Trish" Gibbons WA6UBE in the foothills of east San Jose.



This was the original configuration (looking from the opposite direction).
The RF cavities were put on the new repeater, but the old 2 m repeater stayed here.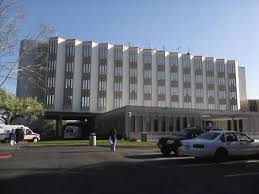 Alexian Brothers Hospital (225 N Jackson Ave at McKee Rd, San Jose), was renamed to Regional Medical Center a few years later.
Note the antenna farm on the roof. click here for a view from the roof.





(0.04 MB jpg)
---
Last updated: July 29, 2016
Editor: Gary Mitchell, WB6YRU, (wb6yru @ ix.netcom.com)