WELCOME TO SCCARA
HOME PAGE
Santa Clara County Amateur Radio Association
SCCARA was formed as a general interest amateur radio club in 1921
and became a non-profit corporation in 1947.
SCCARA is an affiliate of the American Radio Relay League
and the Santa Clara Valley Section of the Pacific Division of the ARRL.
This meeting is the second Monday
of each month at 7:30PM.
Visitors are always welcome to attend the club meeting.
NOTICE:
Club P.O.Box is now
SCCARA
P.O.Box 106
San Jose CA 95103-0106
(NIST TIME WIDGIT ABOVE)
The SCCARA meeting is:
NOVEMBER 13, 2017 7:30 PM
The presentation - ' A Revisit of ARRL 100 Year Celebration,
from Newington, Conn..' by Don Anastasia.
Don at ARRL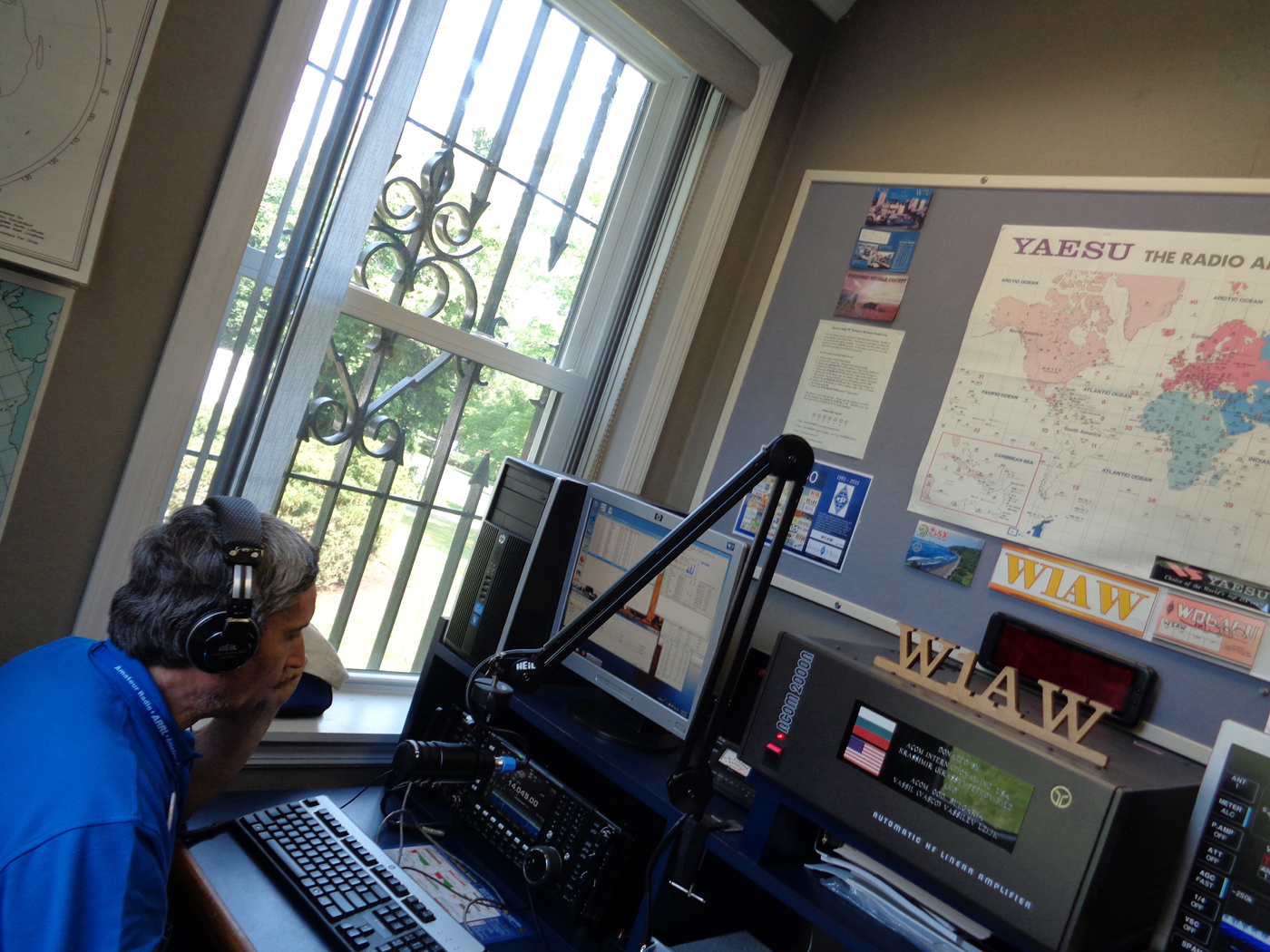 Bio: I was first licensed in year 1977, with novice callsign WD6EPV. (By the way, I completed most of my studying,
later on...thru the SCCARA club (license classes) in preparation for my General exam. Later, in the year
1981, or 1982...I achieved my Extra class ticket. And, a few years later I changed my callsign to a vanity callsign, which is today,
simply AA6W. I have earned both Satellite, and HF Mixed modes (both CW and SSB) DXCC awards, thru the ARRL.
I enjoy many facets of amateur radio. In recent years, I have enjoyed HF dx'ing...and HF contesting. I have participated in ARISS
(Amateur Radio on board The International Space Station) contacts as well, in the past.
And, I enjoy speaking with many amateur radio friends casually,on 2-meters or 440 mhz...occasionally when I am mobile.
The presentation on Nov. 13, 2017 will be fun! I had a chance to visit W1AW headquarters during their 100 year celebration,
and convention in Hartford, Conn... I have lots of pictures of the W1AW headquarters building, and
descriptions of the ARRL league headquarters, and surrounding areas.
Also, I will describe (with photos) the ARRL laboratory (for testing amateur radio equip). I will even provide some fun photos
of the modern aircraft which I flew in, to get across the country.
I think everybody will enjoy the presentation. I hope to see you there! Best wishes.
73 for now - Don, AA6W
Hope to see you at the meeting!
Gregg KF6FNA, President
The SCCARA MEETING starts at 7:30 PM at Kaiser Santa Clara
(on Lawrence Expressway at Homestead Road.) in Building 700,
Room B-06 in the basement (across the hall from the cafeteria.)
PREVIOUS SPEAKERS (link)
Hospital Site map is in the SCCARA-GRAM
SCCARA Newsletter links
SCCARA-GRAM ARCHIVES - (older copies still being added)
The Regular meeting is at THE NEW KAISER HOSPITAL off
HOMESTEAD & LAWRENCE EXPY, SANTA CLARA CA.
Main Hospital Building Basement room often in B6 near cafeteria.
(Alterations will be announced.)
Parking lot B is closest, use the 'WEST' entry (right side) watch for signs to B6.
Directions:
From Lawrence Expressway turn WEST on Homestead
then LEFT (South) into the parking lot.
Lot B is the middle lot.
When entering the Homestead driveway you are facing the main hospital.
SCCARA's Radio Room is Open Monthly.
See:
The club board meeting is held the third Monday of each month
at the San Jose Red Cross building, 2731 N 1st Street, San Jose, CA at 7:30PM
guests welcome
Here's the - Officers & Directors of SCCARA: <Click here>
Want current information regarding the local volunteer license examiner
program in relationship with ARRL?
HAM FLEA MARKETS COORDINATED BY ASVARO
(header is link)
Elaborated Details of 2 prior presentations
xxxxxxxxxxxxxxxxxxxxxxxxxxxxxxxxxxxxxxxxxxxxxxxxxxxxxxxxxxxxxxxxxxxxxxxxxxxxxxxxxxxxxxxxxxxxxxxxxxxxxxxxxxxxxxxxxxxxxxxxxxxxxxxxxxxxxxxxxxxxxxxxxxxxxxxx
From our February 14, 2011 Regular meeting The February SCCARA meeting featured Rich Harrington, (prior WA6GJF) Now KN6FW, speaking on T Hunting.
As his first call suggests Rich has been at this since 1962. Rich got part of his T-Hunting skills in the US Navy where it is a serious business.
Rich is now retired from Pacific Bell so he can devote his time to designing, building, and using DF equipment.
xxxxxxxxxxxxxxxxxxxxxxxxxxxxxxxxxxxxxxxxxxxxxxxxxxxxxxxxxxxxxxxxxxxxxxxxxxxxxxxxxxxxxxxxxxxxxxxxxxxxxxxxxxxxxxxxxxxxxxxxxxxxxxxxxxxxxxxxxxxxxxxxxxxxxxxx
"How to radiate a big signal from a small lot."
The Link to talk given 9/8/08 is below.
Mr.Badger was a ham since 1939. He graduated from U C Berkeley in Electrical Engineering.
He has had many articles published in both the professional and amateur press.
Regretfully Mr Badger passed on 11/15/09 at 84 years.
The W6TC DX Loop presented by George Badger
( http://www.ae6pm.com/Shared.htm)
For comments, questions or suggestions regarding this page: <feedback>
This page was last updated on 20170424 wb