---
Next, you'll be given the opportunity to create a customized boot diskette for your Red Hat Linux system (see Figure 44).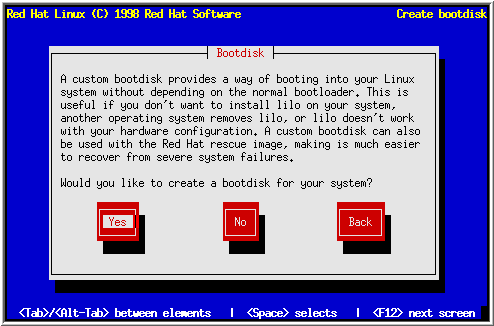 Figure 44: Creating a Boot Diskette
A boot diskette can be handy for a number of reasons:
Use It Instead of LILO -- You can use a boot diskette instead of LILO. This is handy if you're trying Red Hat Linux for the first time, and you'd feel more comfortable if the boot process for your other operating system is left unchanged. With a boot diskette, going back to your other operating system is as easy as removing the boot diskette and rebooting.
Use It In Emergencies -- The boot diskette can also be used in conjunction with a rescue disk, which will give you the tools necessary to get an ailing system back on its feet again3
.
Use It When Another Operating System Overwrites LILO -- Other operating systems may not be as flexible as Red Hat Linux when it comes to supported boot methods. Quite often, installing or updating another operating system can cause the master boot record (originally containing LILO) to be overwritten, making it impossible to boot your Red Hat Linux installation. The boot diskette can then be used to boot Red Hat Linux so you can reinstall LILO.

Given these reasons to create a boot diskette, you should seriously consider doing so. Select Yes and press [Space] to create a boot diskette. Next, you'll see a dialog box directing you to insert a blank diskette in your computer's diskette drive. Select Ok, and press [Space] when you've done so.

After a short delay, your boot diskette will be done. After removing it from your diskette drive, label it clearly. Note that if you would like to create a boot diskette after the installation, you'll be able to do so. If you boot your system with the boot diskette (instead of LILO), make sure you create a new boot diskette if you make any changes to your kernel. For more information, please see the mkbootdisk man page.
---
---