OE5OHO DXpeditions Page
---
| | | |
| --- | --- | --- |
| Our 1999 DXpedition - TK/OE5XVL | | |
100% of our QSL-cards are already handed over to the OEVSV-QSL-bureau!! Direct QSLs are on their way via snailmail! Do not re-QSL! In case of questions simply email me...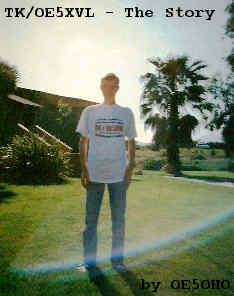 Quicklinks to:
What others said about our activity - Feedback
The TK/OE5XVL Story
Introduction:

It was on a damn hot summerday in 1998 when Gerhard, OE3GEA, Hubert, OE5MKM, and I decided to continue our clubmeeting in a nearby hotel. We cooled down in the refreshing garden of the hotel drinking beer... That was the birth of the idea "We are going on a DXpedition".
No longer ago then early January 1999 we felt like spring is coming. We again started to think about our plan from last year... A few clubmeetings later we knew: We are going to TK!.
Experiences during the Process of Planning:

As soon as we knew we wanted to activate Corsica we had the first problem. It was quite tricky to combine holidays among 30 possible DXpedition-members!! The outcome was that only(!) four clubmembers could gather around end of May 1999. At least we now knew how many members were actually involved - five (4 members + one XYL). And we knew the date of our activity: 20th till 25th of May 1999.
After the periode of our Expedition has been fixed the next problems occured:

Which QTH in Corsica?
How do we get there?
What to take with us (equipment, antennas)?
How are we going to plan our daily routine for the Expedition?
Information for the DX-community (DXnews-publications),
and a lot of smaller problems, among them: time was passing too quickly!
Selecting the proper Location:

Before we finally decided to go to TK-land I of course took a look into the European and US-DXClustersystem to verify that TK hasnīt been active lately. Doing so I remembered the big signal my friends from the Bavarian Contest Club produced with their call TK5NN. Bingo! Viewing the BCC-homepage I found out about TK5EP being one of the important persons for the BCC-activity in Corsica.
I contacted Patrick, TK5EP, by email and he really was a big help for our Expedition - thanks Patrick!
Furthermore, at a fleamarket in Nuernberg/Germany I met Dieter, DF4RD, at a stand of the BCC and talked with him about Marina di Capitello. What Dieter told me about the site was exciting and promising!
With the help of TK5EP, lots of emails and 2 faxes later we definitely solved one of the bigger problems: Our QTH will be Marina di Capitello.
This QTH on the south-western part of the island is close to the airport, flat, very close to the beach and it offers a perfect takeoff to the USA. Prices are fair and the surroundings invite you to excurses in the lovely climate of Corsica...
Well, in terms of transportation we finally decided for a hired car to travel from Linz to our Expedition-site. This would allow us to drive up a nearby mountain for VHF-DXing and we needed to buy food and drinks locally (the car surely would be full of equipment, hi).
Antennas and Equipment:

Now we knew DATE, QTH, MEMBERS of the trip it was time to inform the DX-community about our activity. I spread the news to the major editors in EU by email and sent the first PR-infos. Our trip was announced worldwide, mentioned at our national DXnews on 80m and printed in our national magazine QSP (OEVSV-magazine).
The next problem was to collect all the needed equipment, as we wanted to be QRV from 160m up to 2m (6m is forbidden in TK!). We got big help by our members Erich, OE5EKM, who lent us his portabel tower (the guywires where sponsored by the local policestation!!), and Bert, OE5VBL, offered his A3S 3ele beam. For VHF we bought a 17ele Cushcraft as the 13ele was not on stock at the local dealer.
The following list shows only the important parts of our DXpedition:
2 notebooks (logging and packetradio)
CT-Software by K1EA running in DXpeditionmode
YAESU FT-900AT + powersupply
YAESU FT-736R + small portable power set
YAESU FT-8000 (packetstation and used to instruct the "shopping team")
several HTīs for intercommunication
old Ameritron AL-80 (backup Amp - very old tubes!)
SWAN Tuner
CUSHCRAFT A3S beam for 10/15/20m
CUSHCRAFT 17ele VHF-Yagi
small 2m-GP (basestation)
2 portabel towers + guys
100m RG-213 coax + RG-58 + 30m feederline
100m wire (fed with the feederline)
large tool kit
...

One thing to mention here: The Corsian Club TK5KP in Ajaccio used to be QRV from the site Marina di Capitello for years. Usually they had 2 fixed towers (abt. 20m high) with antennas there. But due to some maintainance by the landlord the club had to remove the towers and antennas :-( It is not sure if they can put up their equipment there in the future!
Operating - Techniques:

We used CT for keying the Rig in CW (parallel to a paddle). The software by K1EA was used in the DXped-mode for logging and performed frictionless.
There was no OP-plan. We just took turns on the stations and didnīt want to provide a plan only to find out it was of no good use ;-)
There also was no band-plan. I did some propagationstudies before we left for Corsica and the Clustersystem would help us to keep up with SSN-numbers and geomagnetic figures. During my late-night CW-sessions I was often connected simultaneously to a European and a stateside Cluster - preferably the westcoast ones. The local digipeater TK5KP was easy to reach!
For VHF we had to find a suitable hilltop-location. Thanks to Patrick, TK5EP, we found a very nice one just 30min away! We installed the 17ele Yagi next to some commercial stations and did leave the tower together with the yagi on the hilltop during our stay - noone did steel it and noone did complain about it ;-)
We neither have set goals for QSO-numbers nor did we emphasize on CW or SSB. We just operated and handed out bandpoints or a new country to the waiting DX-community!
Facts and Figures:

Take a look at the hard facts in numbers | QSO per region and SSB versus CW | SSB-QSO in details | CW-QSO in details | Worked zones and DXCC in SSB/CW | QSOs per region (map)

On the 22nd May 1999 I first hit the airwaves at 19:47 UTC signing TK/OE5XVL. The crowd was already waiting and the pileup began to build.
The last QSO was made on the 25th May at 07:15 UTC.
In theorie we could have been active for 107.5 hours - according to CT we were active 72,4h. CT said Off-Time was 35h which means that we transmitted full 37.4 hours.
To put that into other words: We were 35 percent of our holidays on the air (TX)!
QSO-Development: the Powerpoint-info shows the QSO-numbers per day. If I would have displayed the actual session-QSO-number (session means the time from 1st OP active until last OP qrt) you would notice that we had rather constant Q-numbers over the periode of time we were on Corsica Island - just that the weekend had a bit increased numbers!

1. Day: 331 Q
2. Day: 1022 Q
3. Day: 1029 Q
4. Day: 1285 Q
5. Day: 1799 Q

We worked 73 Zones in SSB and 93 in CW.
TK/OE5XVL had contact with 93 different countries (SSB plus CW).
Our performance would have meant a score of 5.5 million points in a CQWW (of course it makes no sense to sum up CW and SSB, but itīs a kind of benchmark).

QSO-Rate:

best minute 5 Q/min => 300 Q/h
best 10 min 34 Q/10min => 204 Q/h
best hour 166 Q/h
average Q-Rate over the whole DXped. = 115Q/h

We were active on all bands from 160m to 2m except 30m (we couldn`t tune the dipole and didnīt care to make it work) and 6m.
Propagation during our trip to Corsica was average, the 23rd Cycle was building very slow :-( Our log clearly shows that the higher bands were mostly open to EU during the day while the signals from Westcoast USA and Southamerica were fine during the night.

QSL - Procedures:

We wanted to hand out TK to the DX-community. Therefore we felt responsible that everyone who had a QSO with TK/OE5XVL should also RX the QSLcard confirming this contact!!
We decided to QSL all 5555 QSO! I received more than 200 direct letters which have already been answered. If you donīt RX our QSLcard send an email to me.
If you want to see that you are really in our log, click on my Log-Search-Button.

Marginalia:

Looking back - what I could extract from the whole trip is the following:


EU-Pile-Upīs: Last-2-Letter-Syndrome! It was especially noticeable when working on IOTA-frequencies. I personally do prefer FULL CALLS ONLY! L2L slows down the QSO-rate and therefore less people get the chance to work a DXpedition. Another episode is that I really had to elucidate one HAM from Spain what the "stroke" (SSB) in TK/OE5XVL means(!!) and where Corsica is located (heīs from Europe and should know it!). One time I had a huge SSB-pile-up on 10m and even after explaining to the DX-community why I announced "listening up 5 to 15", and what the advantage of going split is, all the EUīs kept calling exactly 5kcīs up. 3 or 4 QRP-stations really knew what split means and therefore got into the log also they had virtually no S-unit on the RX!! After EU did not want to practise split I worked transceive again - to narrow down the used bandwith.

USA-Pile-Upīs: Strong signals in TK and rather good discipline. US-OPīs tend to call one time and listen if I came back to their call (compared to EU who probably got the wrong picture about "tailending" - EU keeps on calling and calling). I have to mention that the rate with USA was excellent - i was often running at 40wpm when signals allowed it.

160m TOPBAND: I am sorry but I was too tired to have a look at sunrise-openings as I was working USA on CW late evening and into the Corsian morninghours... Maybe next time?!

Feedback:

Hereīs what others said about our TK/OE5XVL activation:

W6QO: TNX es 73. Ur a new country for me...
N0RDJ: from the mobile...
W0TUT: Dr Oliver: tks for the nice report fm first TK...
JE1ARQ: TNX new country on 12m!
G0VKL: Hello Radioclub, thanks for the nice QSOīs with your IOTA-Holiday in Corsica...
F5REL: Thank you for the contact Oliver, greetings from France...
JA5GE: I am 64 yrs old and enjoy hamming all bands CW es SSB, but I can only speak Japanese so DX QSO only CW. At times use SSB on contest hihi... (Remark: Mitsuyuki sent me a postcard to tell me how happy he was to RX our QSL!! )
AK7O: Vielen Dank Oliver!
KM5SC: Bert, great signal...
N0MM: Thank you for calling "0īs" very much appreciated - You are obviously a Gentleman!
N9GCI: Thanks for the new country; been trying to "nab" a TK for some time. FB signal!
W8RCM: Dr Oliver, great signal you had over here with your portable station, real 59+...
FG5FR: Bonne Anne a vous et vtr famille...
AL0E: Many thanks for the TK...
W8LYT: My first QSO with Corsica in over 65 yrs of operation... my xmtr runs 80W to a dipole only 2.5 meters above ground. We live in a suburb...in a community which does not allow any roof antennas...
N2FX: Member of Pitcairn Island ARC - need TK on 12m... You had very good sigs...
VA3LKH: TNX Gerhard for comeback - had called you several times but too much QRM... On the air since several years of absence... Did not expect you would hear me...
N7OW: Many thanks for confirming Corsica! You had a big pile-up going on here in US...
2A0BQI: Special event call to celebrate the opening of the new Scottish Parliament in Edinburgh - tnx new country!
N0SL: Tnx for my 1st TK QSO...
VE3DTJ: Oliver, my very sincerest thanks for nice QSO... I returned home from hospital today so our QSO was a special treat!
MW0AQZ: Pse your QSL for IOTA-award...
KF4C: Tnx for nice contact, 88!
JA1VWZ: TNX fb 2band QSO and IOTA-service!

and many other nice comments.....


Thereīs only one more question Where do we go next?

---
Pictures:

These are the first pictures of our Corsica-DXpedition. They have been taken by Patrick, TK5EP, when he visited us at Marina di Capitello. Enjoy them and look for many more to come soon:

OE5OHO operating another pile-up - serving a new country or bandpoint in CW.

For VHF-DX one part of our troop activated a field office on top of a nearby mountain (left: OE5MRP right: OE5MKM).

A rare one - the whole DX-TEAM in front of the station (Thanks Patrick!).

Inge was the one who motivated me to QRX the pile-upīs "If you donīt attend our lunch now, you will come away empty-handed!". :-)
The following conventional pictures have been digitalized using my digital camera - therefore the quality is a bit worse:

We are arriving Bastia - northern part of TK - by car ferry.

View from the beach of our Exped.-QTH to AJACCIO accross the bay.

Arriving at Marina di Capitello: This happens if you take TOO much stuff to your DX-location (Roman just opened the tailgate!).

The first impression of the site.

Relaxing on the beach - ocean view.

A3S beam by Cushcraft and our 100m-wire-dipole fed with latterline.

HF beam and 17ele VHF Cushcraft yagi at our basestation.

A very romantic view of the beam infront of heavy clouds.

View from the shack through the window.

Beam with crew: back=OE5MKM Bert, front: OE5OHO Oliver, OE5MRP Roman, OE3GEA Gerhard.

Palm tree and crew (l.t.r.): Gerhard, Oliver, Bert, Roman.

TK/OE5XVL-crew and exotic brushwood: back=Oliver, Roman, Inge, front: Bert.

This Picture was taken minutes before we made the 5555 contact - others are already packing up!

Oliver handling the pile-up while (l.t.r.) Roman, Patrick TK5EP and Gerhard are philosophizing which restaurant serves the best meals.

Patrick, TK5EP - in a sad moment, realizing that after the TK/OE5XVL DXpedition there will be noone left who needs Corsica on any band, hi.

OE5OHO providing the VHF-DX-community with TK/OE5XVL - did you ever have the feeling of how nice it would be to own a 3rd hand, hi?!

Assembling and testing the 17ele VHF-yagi - OE5OHO calling CQ (You never know whoīs out there, hi!) and Roman monitoring the progress.

A beautiful picture of Roman and Oliver under the huge 17ele VHF-long-yagi on top of our 2m-DX-hill.

Who said it is very comfortable during a DXpedition??! Roman listening and Oliver handing out the rare JN41-square in CW "QRZ EA, agn!".

In case you were linked to this page and you cannot see brown buttons in a yellow frame left click here.
---
All pictures and contents are copyright by OE5OHO Oliver Huber.
Email me by clicking on the rotating Email-Symbol on the left - or copy the following addresses into your personal Email-program:
oe5oho@contesting.com
or try
oe5oho@qsl.net
In case your Email gets rejected try again and leave me a note on my guestbook!