I'm not a really SERIOUS collector...
but I do have some nice keys...
more STRAIGHT Keys...

The KE6RIE mini-key is a work of art. The fit and finish is amazing, and attractive as all get-out! Just look at it! And it feels as good to key as it looks. I was fortunate enough to win this one via Doug Hendricks from the Saint Aiden's raffle held around PACIFICON this year (OCT 2001) but it is well worth the usual ~$50 it costs. See Doug Hauff's website at www.fix.net/~slmachco for details. Click on the photo for a higher rez picture.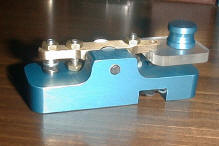 My McElroy Tear Drop Model#300 Deluxe Chrome Stream Key a very nice older straight key. I have wanted a McElroy "Teardrop" for many years, and I wound up getting this one for a fairly reasonable price.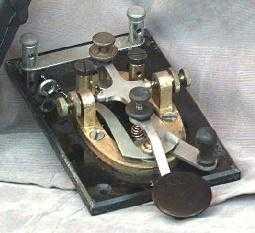 This is the military straight key: the J-38. A J-38 was my 1st key, as a Novice in 1961, and today I have 4 of them, including one that I opened from the sealed MIL-wrapping myself. It is still just about as good a sending key as there is-despite its relative simplicity. I was fortunate enough to find a new (NOS), sealed in the MIL-wrapping, key.
This is the military straight key: the J-47. This particular J-47 is very unusual. Most of the IDs on J-47s are simply stamped on, and can wear off. Note both the base ID and the ID on the key frame as well. A very interesting key!
To continue browsing the website, please select from these categories:
and from an Electronics perspective: