---
---
Pixie II / 49er
---
---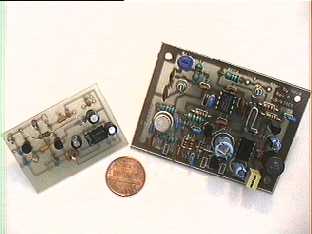 I have included this image so those not familiar with the Pixie II or the 49er QRP rigs can make a comparison of the two both in size and complexity... The Pixie II can fit into a TIC-TAC box while the 49er will need a larger enclosure such as an Altoids tin or a Sucrets tin... Both are simple one evening kits... The Pixie II sells for $9.95 (US) plus shipping & handling... The 49er kit is no longer available from NorCal...


Pixie II Kit available from:

HSC Electronics
3500 Ryder St.
Santa Clara, CA 95051
(800)-442-5833
Contact HSC for details on current price and availability of the Pixie II...

---
---
This Page Last Modified 11 Feb 1999...