---
---
Ten-Tec ARGO 556
QRP SSB/CW Transceiver
---
---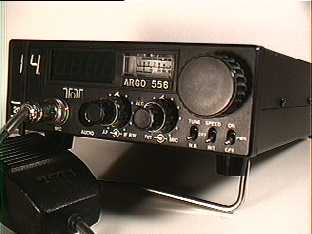 The ARGO 556 is the Ten Tec Scout 555, minus the 50w amplifier... The final section has been optimized at the lower output power to reduce power consumption... While this rig is not a power miser like many of the new breed of QRP kit rigs it certainly is usable in a portable situation... The Jones filter is very effective and smooth... The receive audio is a pleasure to listen to... On the air reports on SSB have all been good... I am constantly amazed at what one can do with 5w SSB on 20m... Band selection is made using plug in modules for each band 160 thru 10m...

QRP SSB/CW Transceiver 160 to 10m
Variable Bandwidth "Jones" Filter 500Hz to 2.5kHz
RIT +/- 1kHz
Optional Noise Blanker
5w to 1w Output
Full QSK On CW With Built In Keyer
Built In SWR Meter
12-14 VDC - 600mA Recv / 2A @ 5w - 1.3A @ 1w
---
---
This Page Last Modified 11 Feb 1999...