Below are some pictures I took in June of 1998 when a potentially tornadic storm tracked directly across Duluth and into NW Wisconsin.
| | |
| --- | --- |
| | This was the scene at 5:15pm as the leading edge of the storm began to crest the hill in town. I had just raced home from work, loaded my equipment and taken off in order to get into a decent position. The Civil Defense sirens in the city were already sounding at this point. |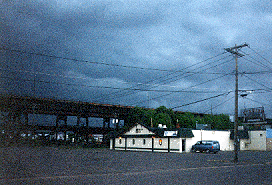 As I drove across the bridge into Superior, Wisconsin, I could still see the relative clear sky over the south shore of Lake Superior.

The images below were taken from the SE side of the storm as it was beginning to weaken.
| | |
| --- | --- |
| | This cell continued into North Central Wisconsin and produced strong winds and hail, but no further severe activity. In all it was a fun evening to be out in the storm! |