<![if !vml]>
<![endif]>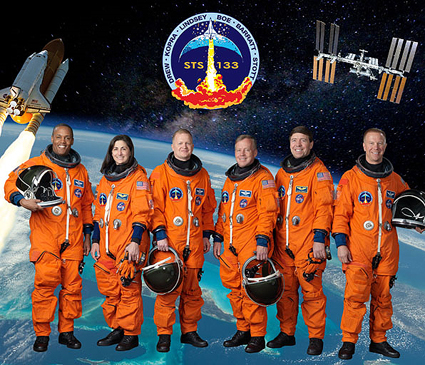 The STS-133 crew members, from the left, are NASA astronauts Alvin Drew and Nicole Stott, both mission specialists; Eric Boe, pilot; Steve Lindsey, commander; Michael Barratt and Tim Kopra, both mission specialists
.
STS-133 is slated to launch February 24th, 2011 at 4:40 p.m. EDT. During space shuttle Discovery's final spaceflight, the STS-133 crew members will take important spare parts to the International Space Station along with the Express Logistics Carrier-4 Module which the Crew will permanently install on this mission. The Crew will spend 11 days in Orbit. This will be the 35th shuttle mission to the station.

For more information about this mission, click here to visit the NASA SHUTTLE PAGE. For tracking the Space Shuttle or the International Space Station (ISS) click here TRACKING
NASA makes a provision to see live video and hear live audio. Just Click Here LIVE VIDEO To view directly through Windows Media Player, click here WINDOWS MEDIA. Set for full screen and Enjoy!
73 de Carleton, AA6GZ