Mon County Amateur Radio Club
K8MCR
MCARC Home on the Web...
Founder:
Allen Harris, KD8BMI
The MCARC Web site being updated this week, please check back as changes are made.
Thank you for visiting!
.
.
MCARC Hamfest - April 29, 2017
Now availible ... MCARC Hamfest poster (PDF) Please download the PDF file and share with friends, your NET contacts, or your club - Thank you and please check our 2017 Hamfest Page
Dale Pettit of Woodmen Life Presents Flag to MCARC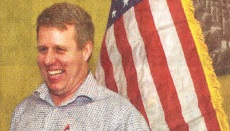 Click here to read detailes printed in Dominion Post Tuesday 3/7/17.

Thank you to the non-profit Woodmen Life organization!
MCARC Monthly Meeting
We meet at Shoney's in Sabraton, on Earl Core Rd., the first Monday of each month. Meet and social starts at 6:00 and the meeting starts at 7:00.
Updated Hamfest Calendar for 2017
This seasons hamfest calendar is here! Check out the Hamfest calendar page for places, dates, and maps.
Instant Band Conditions
with solar data and maximum usable Frequency (MUF) displayed at bottom of this page, scroll down. QST Feb. 2014, page 78-79 has an article explaining this data app. (See Download Page)
If you have a Baofend UV-5R handheld dual band that members love, check out the free American manual on the Downloads Page
Club meetings held at
the new Shoney's, Earl L. Core Road, Sabraton, WV
First Monday of the Month
Social 6:00 PM, Meeting 7:00-8:30 PM
Please visit us as our guest and if you wish to join MCARC,
please download a membership application.
MCARC 2 meter NET Wednesdays @ 8:00 PM
Click for MCARC Net Info
Email us at mcarc2012@yahoo.com or by mail
Mon County Amateur Radio Club
PO Box 364 Dellslow, WV, 26531