Sanyo PC Hacker's Special
MENU
MBC-1250
MBC-555
Order form
Home
High-Performance 8-Bit Personal Computer with Graphics and 96 kB RAM with CP/M-80 & WordStar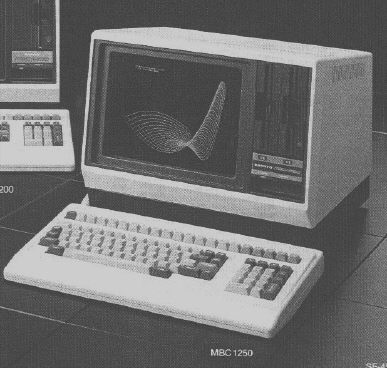 The MBC1200 and 1250 computers feature a high-resolution 640 X 400 dot matrix for graphic displays or a 40 line X 80 character text mode. The auxiliary CPU ensures high speed execution of graphics, while the detachable ergonomic keyboard and coiled cable enhance ease of use.
Specifications

---

HARDWARE
CPU
Z-80A X 2 (4 MHz, no wait mode) 8048 (Keyboard)
ROM
4 kB (IPL) + 8 kB (CRT program)
RAM
64 kB (user area) + 32 kB (VRAM)
Display

12" P39 (green) w/non-glare treatment
256 kinds of characters in 8 X 8 dot cell
80 characters X 33 lines (high-speed scroll)
80 characters X 40 lines (low-speed scroll)
640 X 400 dots (graphics)

Floppy disk drive
5.25" DSDD 80 Track, 640 kB, 6ms seek
MBC-1200, one drive; MBC-1250, two drives
Printer Interface
Centronics parallel

---

SOFTWARE
Languages
Sanyo BASIC
Applications
WordStar, SpellStar, InfoStar, EasyWriter
Operating System
CP/M-80 vs. 2.2

---

OPTIONAL ACCESSORIES
RS-232C serial
1 port, 75-4800 bps ASYNC
Data bits, 7 or 8; Stop bits, 1 or 2.
Other Features
15 user-programmable function keys

---

ELECTRICAL
Power supply
AC 120 V, 60 Hz, 50 W

---

OUTER DIMENSIONS
Main unit
16 1/8"W X 14 9/16"D X 13 1/4" H
Keyboard
17 3/8"W X 9 11/16"D X 2 1/2" H
The End Of The Line
I just barely missed the CP/M era. Although I had bits and pieces of CP/M systems before 1983, they weren't reliable or easy to use. CP/M-80 computers had a dozen or more incompatible floppy disk formats. Software was expensive.
The Sanyo MBC-1250 was the last CP/M-80 computer Sanyo sold to the US Business System market. Preceding it were the MBC-1000 series and the MBC-1100 series, all of which had integral monitors. When the not-so-IBM-compatible MBC-550 was introduced with a 3.58 MHz 8088 CPU, 128 kB of memory, and one 160 kB SSDD disk drive, this computer had TWO 4.0 MHz Z80A CPUs and 640 kB disk drives. Why would anybody in their right mind NOT choose the MBC-1250?
The answer, of course, was software. Sanyo was able to bundle software (Microsoft's MS-DOS, Micropro's WordStar, CalcStar, and John Draper's EasyWriter) with the MBC-550 that would have cost as much as the whole package, had it been bought for a CP/M-80 system. IBM compatibility, IBM's pricing CP/M-86 out of the market, the lack of standards, and lack of support for graphics amongst most CP/M computers, were the nails in Digital Research's (the author/vendor/supplier of CP/M) coffin. Still, for a couple years, businesses and hobbyists bought the Sanyo CP/M-80 computers.
Sanyo Computer User Groups
Sanyo was not noted for user support, although they were better than most computer makers at the time. The computers were well-built and reliable. Software was most of the problem. Sanyo felt that the authors, Micropro and Microsoft, should provide support for the bundled software, since Sanyo had paid them well. The software companies, on the other hand, felt that since Sanyo had done the selling and had obtained a bulk rate on the software, that they should provide that support. User groups flourished to handle the needs of at least the hobbyist. The user group of which I was editor/publisher and custodian from 1984 to 2000 provided mostly for the MBC-550 series crowd, although we had a few CP/M members from time to time. I obtained my collection of Sanyo Business Systems CP/M computers after the bloom was gone from the rose and the computers could be found at surplus outlets and thrift stores.
mbc1250.html 5/19/01 Victor Frank