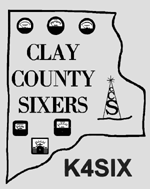 Repeater Frequency:
53.190 -1 meg

Echo Link Node Number:
53190

FISTS Number:
13850
Go to the Clay County Sixers Club Officers Page.
Go to the Clay County Sixers History Page.
Go to the Clay County Sixers Club Picture Page.
Welcome to the Clay County Sixers club. &nbsp Please select from the menu on the left side of the screen to our site. The Clay County Sixers club is open to all people interested in Amateur Radio 6 meter operations and currently has 15 members (plus or minus a few). &nbsp We meet every Sunday morning at 0800 at the IHOP on Blanding Boulevard in the Tuesday Morning Plaza, Orange Park, Florida. &nbsp There are no dues and all you have to do to join is send an Email to k4six@qsl.net. &nbsp Newsletters may come out whenever we get around to it and are distributed by Email.
Some of our favorite Sites:
Where in the world is ...
K2DF-9
K5WTA-7
K5WTA-8
K5WTA-9
WB5TWK-9
N4QLC-9
KV4RT-9
N6EIV-9
KB7MSC-9
K4UZT-8
K4UZT-9



Upcoming Events
St. Johns River Celebration

| | |
| --- | --- |
| When: | March 18, 2017 |
| Where: | Clay County, FL |

The volunteers meets at Whitey's Fish Camp or Knight's Boat Ramp at 8am on 18 March 2017. See Clay County St Johns River Celebration for more information. Volunteers will be asked to meet at Camp Chowenwaw immediately following the cleanup for lunch and to pick up their t-shirts. Volunteers are asked to contribute a canned goods for the Green Cove Springs Food Pantry and new or used books for the VIA Women's Club GCS, and clean empty aluminum cans for Kans4K9's. There will also be door prizes. DOUBLE COMMUNITY SERVICE HOURS for all students needing community service hours to meet scholarship and school requirements.

Volunteers under 16 years of age must be accompanied by an adult, those under 18 should be accompanied by an adult.