ACTION IN THE SHELTER:
Phone operators/Food/VHF/Visiting/Fun!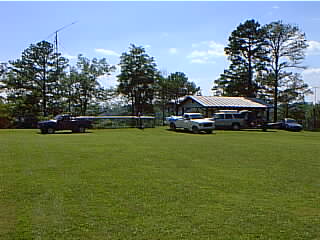 Here's the big shelter, where the cooking, eating, visiting, phone operating, packet and APRES operating took place. As you can imagine, it was the center of activity with all the picnic tables and piles of twinkies plus tubs of cool drinks. At the left is the rotatable dipole, which was on a couple sections of tower, anchored to a massive steel structure which was originally planned to be a dock for the pond which is to the right.
The six meter beam is just to the right of the shelter in this picture, and used an "Armstrong" brand of rotator. There were several openings on six meters, with stations worked as far away as California and Colorado.
The most important man on Field Day at his job in the Shelter. Not only does Rick turn out as many meals as anyone will stay for and eat, he works through the night on the phone station dredging up contacts for the Field Day operation. No wonder our Field Day participation increases year after year!



---

More photos from the main shelter:

Under construction!!!

Back to the main Field Day Page...
---

Updated July 13, 2000.