Our personal goal was to top 20K QSOs during our trip. We were just short of that goal by roughly 500. I am still compiling the data, and will post it as soon as I can.
Asia led Europe by 300 QSOs. It's noteworthy to mention that collectively the team spent far less time working Asia than other regions. This is a testament to the Asian Hams operational skill and discipline. As a whole JA Op's individually were very patient when other regions, or other operators were called.
North American Operators were also very patient while we work other regions. NA hams stacked on the frequency where we were working and timed their call. At times individual team operators were able to work over 200 NA stations in an hour. Attributing to the marketably higher Q-Rate.
Graph A: QSOs by Continent.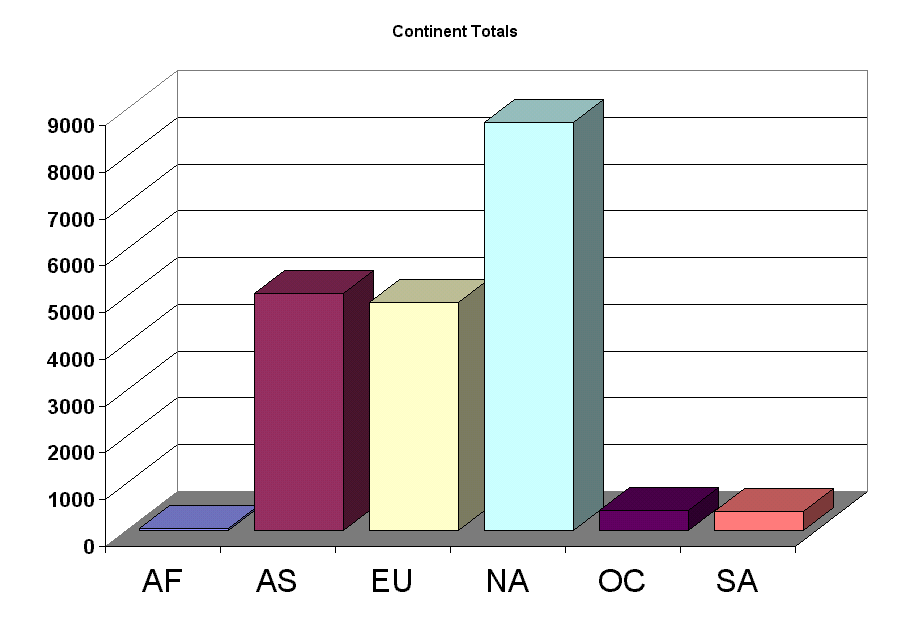 Graph B: Percent of QSOs by Continent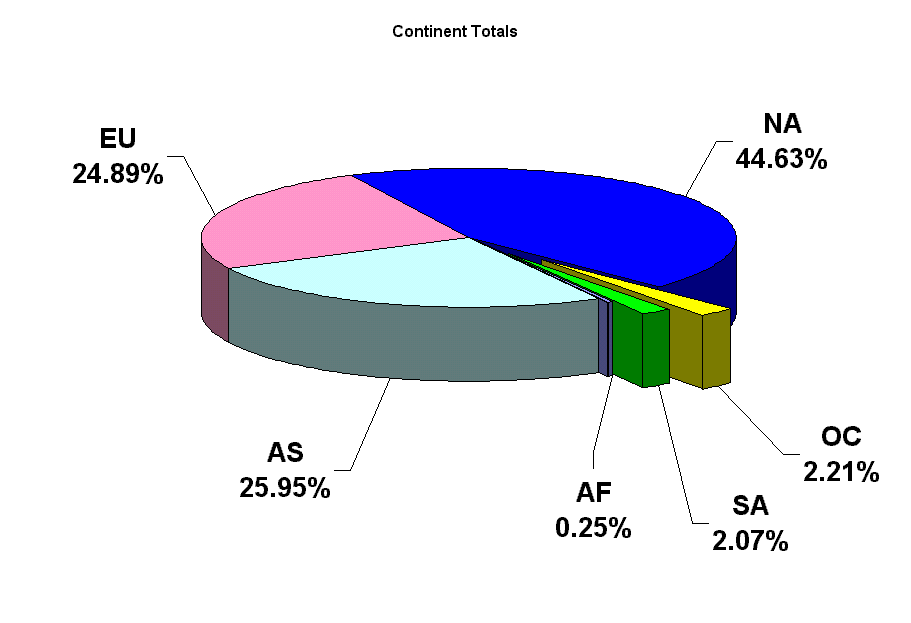 Graph C: QSOs by Entity. (Top 20)
Graph D: Matrix of QSO per Band by Continent
| | | | | | | | | | | |
| --- | --- | --- | --- | --- | --- | --- | --- | --- | --- | --- |
| | Continent | 10 Meters | 12 Meters | 15 Meters | 17 Meters | 20 Meters | 40 Meters | 80 Meters | 160 Meters | |
| | AF | 4 | 5 | 15 | 6 | 19 | 0 | 0 | 0 | |
| | AS | 1101 | 551 | 868 | 1043 | 1080 | 206 | 185 | 40 | |
| | EU | 44 | 628 | 1338 | 942 | 1860 | 52 | 2 | 1 | |
| | NA | 2070 | 1249 | 2460 | 1073 | 1133 | 260 | 384 | 98 | |
| | OC | 74 | 45 | 113 | 61 | 112 | 19 | 6 | 2 | |
| | SA | 144 | 34 | 97 | 56 | 63 | 9 | 1 | 0 | |
| | Total | 3437 | 2512 | 4891 | 3181 | 4267 | 546 | 578 | 141 | |
Graph E: QSOs by Mode and Band
Graph E: Percentage: Mode and Band