Welcome to Rick's Place.
KØSU
Colorado Springs

This site is evolving and continuously being updated with
new photos and information (well, I keep trying anyway) .... so come back now and then!
---
Here is a picture of Pikes Peak. This view takes my breath away every morning. Do you wonder why we live here?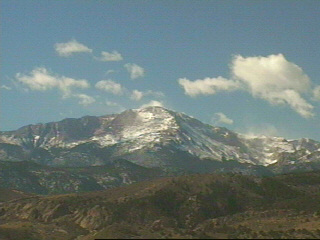 ---
Hi, I am Rick Brown in Colorado Springs, CO. I started this page to tell you about my interests. Well, if you really want to know the truth, my sons were in college and had Web pages and I couldn't let them get too far ahead of me.
These are some of my favorite links. I used to have my sons pages here, but they have now graduated from college -- both from the University of Colorado in Engineering and they are off doing their own thing.
My activities are varied, but here are my major interests:
I work as an electronic technician/engineer in a small office doing research and development. Before I started in this position I spent five years teaching electronic technology at Denver Technical College in Colorado Springs. I am also retired from the Air Force where I spent almost 26 years doing electronics maintenance on radar and space track systems. I must admit I rose high enough in the ranks they took away my screwdriver and soldering iron and I learned to push a lot of paper.
---
Here is an interesting site to check the time!
---
You are visitor number
since March 9, 1998
Please send me

mail if you have similar interests.
---
Hosted by QSL.NET
All rights reserved Copyright Rick Brown, 1997, 1998, 1999, 2000, 2001, 2002, 2003, 2004
Maintained by Rick Brown (KØ[email protected])
Last updated 08/20/2004