Rick's Family Page
Rick, Helen, Glenn, & Brian
---
Well folks, I have to tell you my family is the best part of my life. I have a wonderful wife and two great sons. My wife and I have been married for almost 30 years and it gets better every year. Our sons are a continuing source of joy for both of us. I used to have links to their web sites, but since they are out of college they haven't kept them up. I guess being at work in the real world keeps them pretty busy.

Here is the family after Thanksgiving dinner a few years ago. It sure is hard to get the four of us together these days. Glenn is an Electical Engineer working at a small firm in Loveland, CO and Brian just graduated from the University of Colorado in Architectural Engineering. He is working as a Lead Illumination Engineer for Lithonia Lighting in the Atlanta, GA area. Helen completed her Master's in Technology in Education a few years ago. One of these days it will be my turn to go back to school!!
This picture was taken after Glenn's graduation from the University of Colorado in May of 1998. You bet we are proud parents and he is one happy guy. From left to right, is Glenn, myself, Helen, and Brian.
---
Here is another picture of the family after Brian's graduation in May of 2000. That Blue Ribbon and medal around his neck means he graduated "With Distinction." You bet it is another proud moment for us.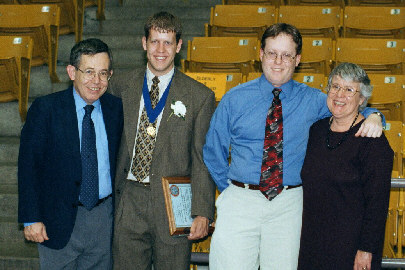 ---
One more picture of Glenn. This is his pride and joy, a new Mitsubishi Eclipse. Sure am glad he can afford it and the insurance!!
---
Here are a couple of more pictures from Bian's graduation. The first is Brian and Helen, and the second is Brian and his girlfriend Stacy. Yes, you can tell everyone is pretty happy that day.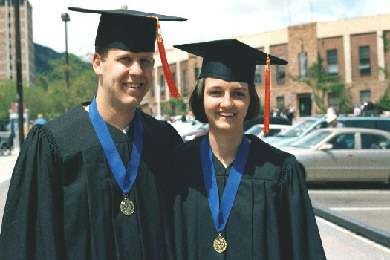 ---
Well, time marches on. Here is the engagement picture for Brian and Stacy. Lots of planning and work were going on at that time, but everyone wass really excited!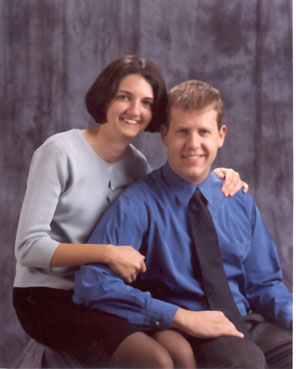 Well, here are a few pictures from the wedding and reception.
---

All rights reserved Copyright Rick Brown, 1997, 1998, 1999, 2000, 2001, 2002, 2003, 2004
Maintained by Rick Brown (KØ[email protected])
Last updated 8/19/2004
To return to Rick's Home Page