WICK RADIO/GKR
working with lifeboats
Like all Coast Radio Stations, GKR had a long history of communicating with Lifeboats and lighthouse stations. Sundays were a favourite time to hear these stations on-air as they came up for their routine tests on 2182kHz.
While most communications with lifeboats were of a routine nature, when they launched on a rescue mission it generally meant something serious. The area round the north of Scotland, Orkney and Shetland is not prolific in pleasure craft; so many lifeboat launches were to the aid of commercial vessels and very often in foul weather conditions, often with daring rescues being carried out by the lifeboat crews.
Inevitably, the work of the lifeboat service brought it's own disasters. This was the case for two of Wick Radio's associated lifeboat stations - at Longhope, when 8 lives were lost, and Fraserburgh, when 4 lives were lost.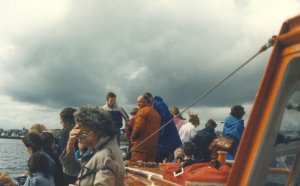 The town of Wick, of course, has it's own lifeboat and two of the station's staff, Robbie Sutherland and Jimmy (Wylie) Begg (wearing orange survival suit in picture), served on the volunteer crew.
Lifeboat Links
Aith | Buckie | Fraserburgh | Kirkwall | Lerwick | Longhope |Macduff | Stromness | Thurso | Wick