Fort Tuthill Hamfest 2003

July 25-27, 2003, Flagstaff Arizona.

Back in October 2000, my brother (N7JY) and I attended the ARRL Southwestern Division Convention, which was in Scottsdale. Several times we heard people compare it to the one just a few months before at Fort Tuthill. "You should have seen what it was like at Fort Tuthill."
So, in 2003 we decided to visit the one at Fort Tuthill.
First, the maps. The ARCA hamfest website had a map that indicated Blue zones and Red zones, but it wasn't in color. The map from Fort Tuthill County Park wasn't too clear on where the hamfest was going to be located. The map from the county campground, besides not being oriented to north, didn't really show where it was in relation to anything else at the location.
We arrived in the Flagstaff area after driving some 500 miles from Southern California along I-40. We noted that it looked like it had been raining earlier that day.
When we got to Fort Tuthill, we had to drive around a bit until we learned where things were. Then we got into the "Family Campground" area and checked in.


They had assigned us to space C-10. This was supposed to be capable of handling a 30 foot trailer, which I had told them we had at the time we reserved the spot. The signs in that campground are all mixed up, so you don't know what you're getting until you see it. There was no way to get a car into the trees, much less a trailer!
So we figured out a way to double in with another camper, KD7KEG. We wove the Airstream into the trees quite well.
We learned that it had just poured rain for 3 hours earlier that day. If we'd arrived during that, it would have made things even more fun.
As you can see, this is an interesting place to camp. A careful ham could probably string up some dipoles or even a loop antenna in those trees and the campground host would never find out. Most of the campers were hams, and most of them were using mobile antennas. Screwdriver antennas were the most common ones. N7JY was using a Don Johnson screwdriver antenna, seen mounted on the left rear bumper.
Admission to the hamfest? Hang onto your hat: Just One Dollar per person!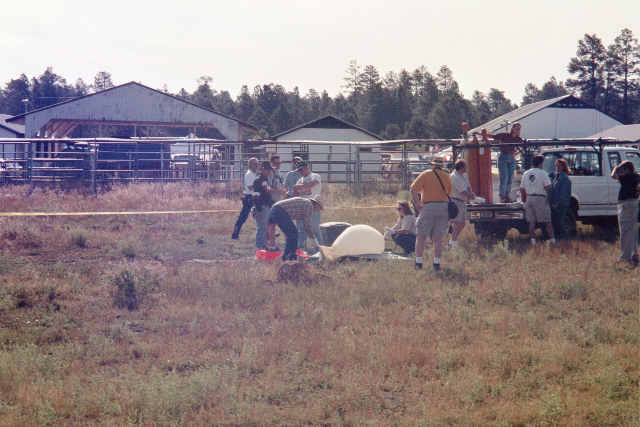 Here is the Arizona Near Space Research group getting ready to launch ANSR-14. This carried an ATV transmitter, crossband FM repeater, and APRS for locating it. Right after takeoff, the ATV failed, but we got APRS from it just fine. I didn't try out the crossband repeater though.

The balloon got up to 93,000 feet and landed some 50 miles to the northwest. Later in the day they had it on display at the hamfest.
Here are some APRS plots of the hamfest. AD7DB-7 is at our campsite. The others are spread around the rest of the campground and in the hamfest.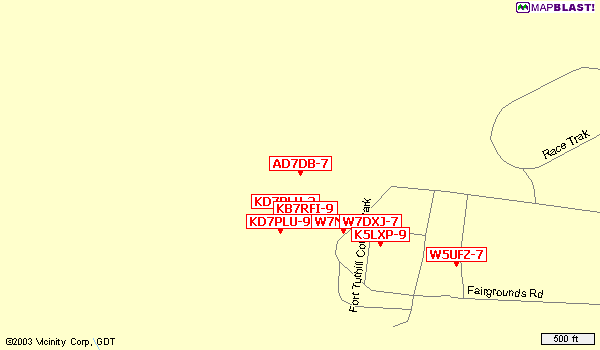 The KD7LMO-11 plot is where the balloon came down northwest of Williams AZ.
Here's N7JY with N4SVD, "Santa Claus"! Now you know where Santa spends the summer!


Scenes around the hamfest. Lots of people, lots of booths, and a whole lot of tailgate sellers. This hamfest is focussed much more on the swap meet aspect than on things like technical sessions, although they had those too. This is the booth for the Arizona Repeater Association, which was just outside the main exhibitors building.

A scene inside the main exhibitors building.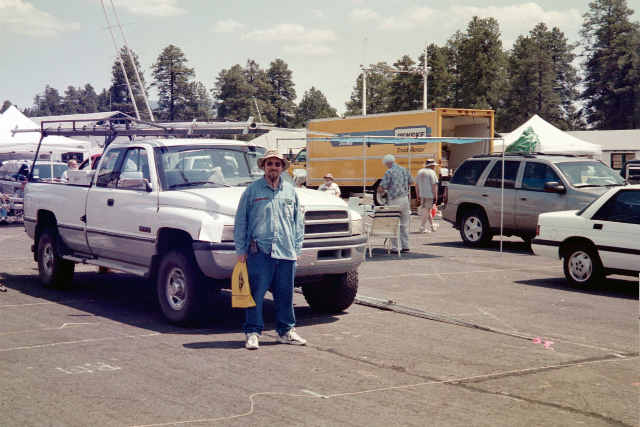 You can see from the above pictures how crowded the place was on Saturday.
This is how it looked on Sunday morning: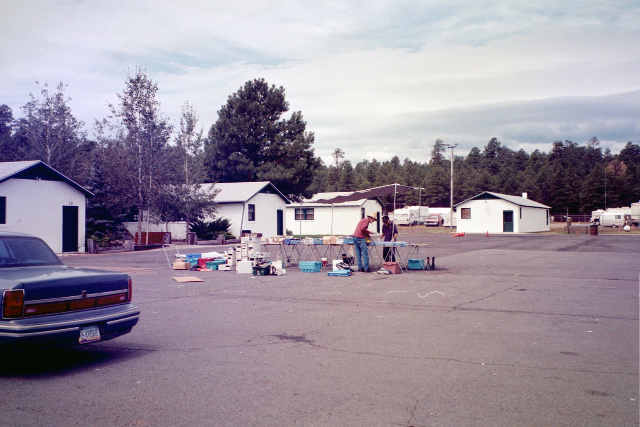 A lot of people left on Saturday afternoon when it began raining again. Others heard it would be pouring all day Sunday, so they left early. It didn't rain at all on Sunday, but if they were headed back to Phoenix they were in for a long wait, as a bad accident had closed I-17 near Black Canyon City.
(Do those buildings kind of remind you of Stalag Luft III from the movie, "The Great Escape"?)
---
Return to the AD7DB Main Page
---

All photos and text Copyright © 2003 David G. Bartholomew, AD7DB.

Disclaimer:
The contents of these pages do not necessarily reflect the opinions of my Internet provider, my page host (QSL.net), my employer, the people who put on the hamfest, the ARRL, ARCA, the other attendees, nor anyone else on the planet. Or anywhere else. And if I left anyone out, them too.

Looks best using