At the ARRL Southwest Division Convention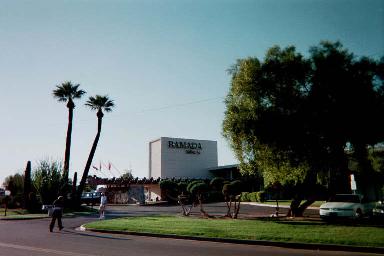 October 6-8, 2000, Scottsdale Arizona.

We arrived in Scottsdale and pulled into the Ramada Valley Ho hotel. I went in and registered and got our room keys. Then it was off to the back part of the hotel near the tennis courts to park, which wasn't really a long way from anyplace and it was fairly close to our room.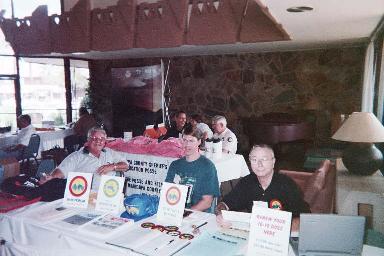 We unpacked our stuff and put it in the room, then walked back to the hotel lobby. There were some clubs and organizations in there, including the Skywarn people, that public school radio club from NYC that seems to be at every convention, 10-10 International, the CARL group from the Arizona Science Center, and the Maricopa County Sheriff's Posse.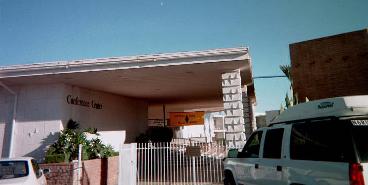 Across the street was the adjoining convention hall and more hotel rooms. We went over there where we found the main convention registration. We picked up our preregistration packets containing our badges, souvenir pins, and prize drawing tickets.
We met Fried Heyn WA6WZO and his wife, and several other ARRL officers at their booth.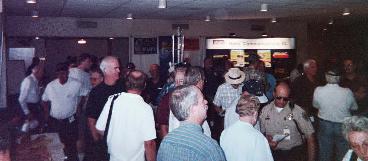 We checked out the exhibitors' hall. Or what there was of it, anyway. This convention was disappointingly smaller than those put on by the folks in Riverside, San Diego, or L.A. when the convention comes their way.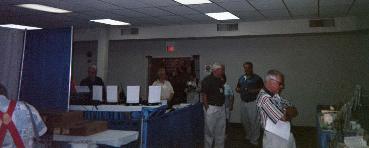 "Oh yes," we were told. "This doesn't even compare to Fort Tuthill." The Fort Tuthill hamfest is an annual event held in Flagstaff in July, attracting hams from all over the state. This one, coming just 10 weeks later, always gets overshadowed by the other one if it's held in Arizona.

Most of the attendees seemed to be from Phoenix and Tucson, although there sure were a lot of 6-area callsigns. I guess a lot of hams move there from California and just don't change their callsigns.

We visited the CADXA hospitality suite. If there was another one, I didn't see it.

I didn't see any special event radio station. I saw some antennas mounted on railings, but when I traced where the coax went, it just led to a big coil of it sitting on the ground. I was told that somebody did get a station running on Saturday night, but on Sunday it was gone. This was a big disappointment to me, because I'd wanted to give the airwaves a try while at the convention, and past conventions have always had a station or two to visit and operate. This convention was also missing a big bulletin board for the attendees to pin up their own QSL cards. I had brought mine especially for this. These were the only things I found lacking at an otherwise good convention.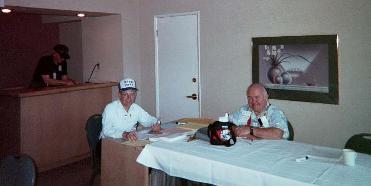 They had a Volunteer Exam session. I stopped in and said hello. Business was good, they had a lot of people stopping by to take exams and/or upgrade their ham licenses.
On Friday evening, there was an antenna party where we got to see how James Pike KB6WHT ("What?") builds his "James Pole" Copper Cactus J-poles. It was very enjoyable and informative. A bunch of his antennas were given away as prizes at the convention. (He even won one of his own antennas later!)

We asked around for a good place for dinner Friday night. I got a hankering for Italian food, and a local sent us to a real good place in Scottsdale called "Italian Delights." And it was very good, too. The owners were overjoyed to see us. We were the only customers there. They told us the local Indian casinos had been attracting a lot of their customers recently.
---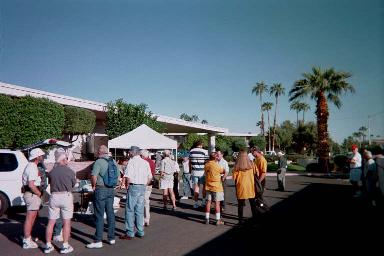 Saturday morning. There was supposed to be a swap meet that morning, "in the parking lot near the tennis courts." Well, we went there. Nothing there but a couple of cars and some other people wandering around looking for the swap meet.

We eventually found it. They were holding it outside in back of the convention hall, and the vendors (both of them) had good foot traffic at their cars, but nothing I wanted to buy. "You should have seen what it was like at Fort Tuthill," everyone said.
Warren Andreasen, K7CWA, spoke on ham radio and the Salvation Army. I used to be a user of his BBS back in the early 1980's, the "TRS-80 Country Exchange." (Warren is obviously showing boundless enthusiasm in meeting me at the convention.
)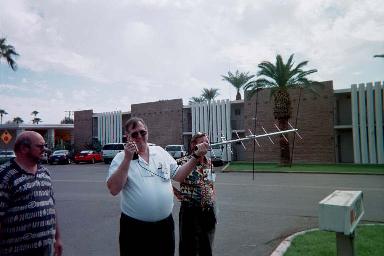 Here's a fellow with Amsat on his shirt. He was trying to make contact with a ham satellite, but it was going out of range even as he tried it.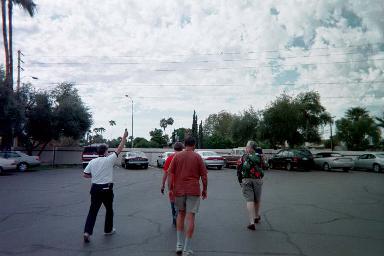 Immediately following the talk about radio direction finding, a bunch of people went on a quick T-hunt.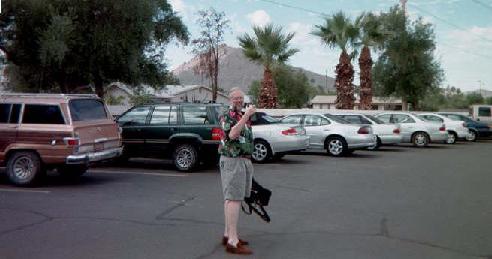 The guy who hid the T used an HT set up to automatically retransmit from 440 back to 2 meters. All he had to do was talk into his 440 HT, and the T would sound off for the hunters to try to locate. Most all of them had no special antennas, they just used simple body-shielding techniques.

They eventually found it. It was hidden in a plastic trash bag under a plastic sprinkler control cover a few hundred feet from where we started.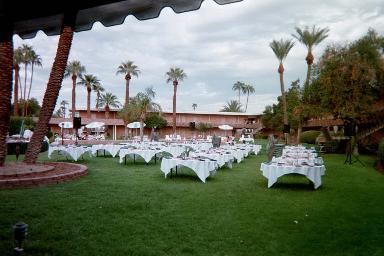 As I said, the weather was behaving itself. However, during the afternoon, cloudiness was building to the east. This is the view of the main lawn area at the hotel which had a BBQ area. They had set up a number of these tables for their "Outdoor Western BBQ Buffet Banquet." I wondered what they planned to do if it rained. Well, it didn't.
My brother and I didn't go to the banquet. Instead, we found lots of food and fun shopping a couple of blocks to the east in Old Town Scottsdale. Later after we got back to the hotel, we figured we could listen in to the banquet speakers from our own room, as it was near that area, but the hotel outsmarted us with a good sound system that allowed the attendees to hear fine without bothering the other hotel guests. (Not like it ran real late, either.)
---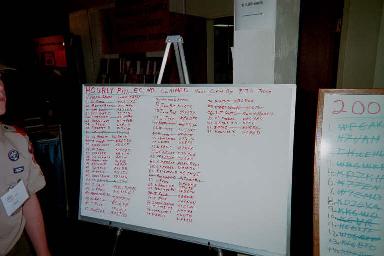 Sunday morning. The last of the tech sessions, and then came the giveaway of all the leftover hourly prizes that went unclaimed all through Friday and Saturday. This is the prize board at the 9:30am deadline. (Click on it for a larger picture!) Shortly afterward, they wiped it clean, and before long started drawing names until they found a winner present.
You can see there wasn't any real crowd, so everyone present stood a good chance of winning something. It took them over an hour to finish them off, because there were dozens of prizes they gave away. Some of them were real nice too!

And I got one of the leftovers. When they called out, "WB6WKB!", I let out a big "Ya-HOO!" that got a laugh from everyone. And here's what I won: an ARRL Repeater Directory for 2001. I came away from this convention with two wins: the repeater directory and a free admission to the 2001 convention in Riverside. (Look closely and you can see my callsign still in the #4 spot on the right hand prize board above.)

Do you have a web page with more photos from this convention? If so, let me know! I can't believe I was the only one taking pictures there. I'll be happy to add a link to your page so that people can see more photos from the convention.
Update: I got some takers! [N7JY]
---
On the next pages, you may check out: the trip to Phoenix, sights around Phoenix, other places we went in Arizona during this trip, and the return trip to California.
Return to the AD7DB Main Page
---

Copyright © 2000 David G. Bartholomew, AD7DB.

Disclaimer:
The contents of these pages do not necessarily reflect the opinions of my Internet provider, my page host (QSL.net), my employer, the people who put on the convention, the ARRL, the other convention attendees, nor anyone else on the planet. Or anywhere else. And if I left anyone out, them too.

Looks best using