Our Trip Back to California

And now I present our trip from Phoenix back to Southern California. We left Phoenix around noon and got on our way, but we took the old road, Hwy 85 (formerly US-80) west through the towns of Goodyear, Cashion, and Buckeye.



These are commercial airliners parked at Goodyear Airport. Most appeared to be former American Airlines equipment; although the company name and logo were painted out, they hadn't gone to any great trouble to make sure it couldn't be recognized by the shape of the words. The White Tank Mountains are in the background. We talked on one of the ARA repeaters up there to several hams in the region.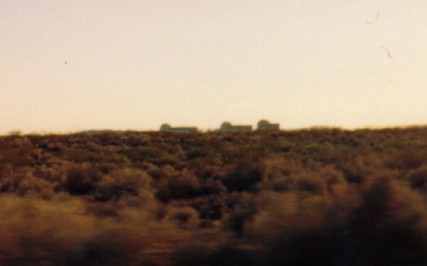 I got a brief view of the Palo Verde nuclear power station by taking the old road south of Tonopah. The environmentalists hate this place, but the weenies want their nice air conditioning too.
Here's an informative page by Phoenix ham W7DPS who actually works there.
Here's an aerial photo of the facility.

---
There wasn't much to see from this point that we didn't see on the way in to Phoenix. But I have some pictures of I-10 westbound from Blythe you can also take a look at.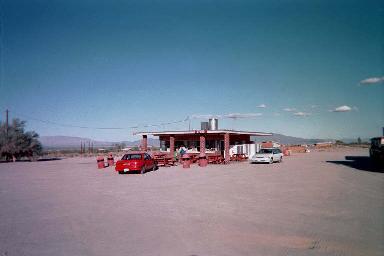 Here we are at a burger stand in Desert Center, California. The only burger stand in Desert Center, it seems. There isn't much else here, either.
More pictures of this area can be seen over at this page.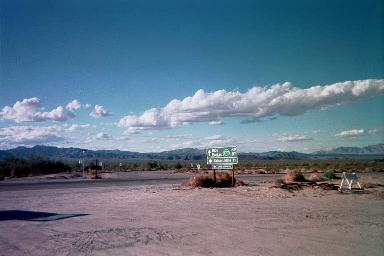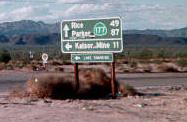 This is Highway 177 heading north from Desert Center to Rice, Vidal Junction, and on to Earp and Parker. I've driven this road before, and it's a mighty empty part of the desert.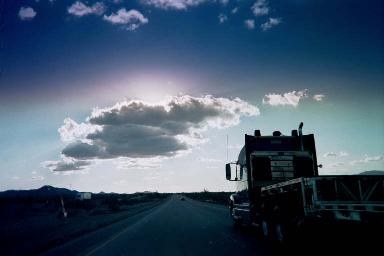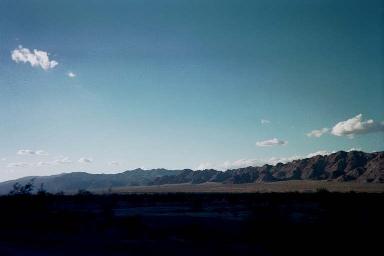 The late afternoon clouds cover the sun, so for a while we're out of the glare. Chiriaco Summit is a few miles ahead.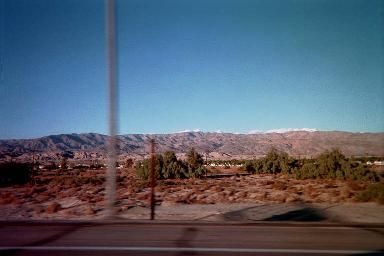 I like early morning and late afternoon on the desert the best. The shadows bring out some real beauty in the mountains.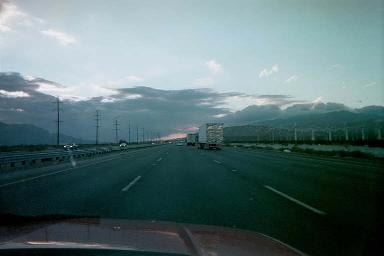 Climbing up into the Banning Pass, we once again return to the California coastal overcast we started with a few days earlier.
We got back into Orange County way after dark, eight hours after leaving Phoenix. Of course some may say they can do it in far less time, but we took the scenic route and thoroughly enjoyed the trip.
---
On the next pages, you may check out: the trip to Phoenix, the Convention, sights around Phoenix, other places we went in Arizona during this trip.
Return to the AD7DB Main Page
Return to the Intermountain roadtrip pages
(depending on how you got here)

---

Copyright © 1997-2000 David G. Bartholomew, AD7DB.

Disclaimer:
The contents of these pages do not necessarily reflect the opinions of my Internet provider, my page host (QSL.net), my employer, nor anyone else on the planet. Or anywhere else. And if I left anyone out, them too.

Looks best using