Home Page of Rudolf ZS6FX





You are visitor number

Visit our realtime Weather Station
As you can see, my name is Rudolf and I live in a town called Klerksdorp some 190KM SW of the big city called Johannesburg, in the North West Province of the Republic of South Africa.
I am married to Alta ZR6BG with three kids, Alta JR, Roelanda, and Rudolf ZU6FX.
My previous callsign was ZR6JRN and I upgraded to ZS6FX in 2003.
ZS6FX and ZU6FX: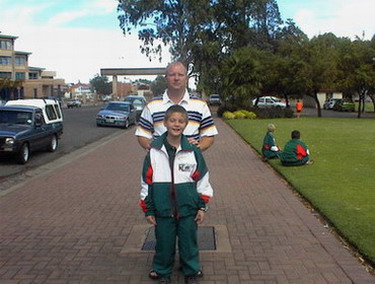 My Hobbies:
HAM RADIO  is my favorite hobby and I also fiddle with Computers and all other electronic stuff.
My Shack:
HF – Icom IC-701, Icom IC-706MK2G, Icom IC-703, 3 Element Tri-Band Yagi, 40/80/160M Wire Antennas, G5RV.
6M - Icom IC-551D with a 4CX250B Valve Linear Amplifier at 300W PEP and a 5 Element Log-taper Yagi (Horizontal).
2M - Icom IC-251E with a 4CX300A Valve Linear Amplifier at 350W PEP and a 16 Element Log-taper Yagi (Horizontal).
70cm – Icom IC-451E with a 4CX250R Valve Linear Amplifier at 320W PEP and a 22 Element Log-taper Yagi (Horizontal). Icom IC-SM5 Desk Microphone via PatchBox to Icom TRX.
23cm – UKW 1296 Transverter with a Sota Valve Linear (2x 2C39BA) at 50W PEP and a 32 Element Yagi. (All mounted on a 16M Tower and a CDE HAM 4 Rotor.)
Satellite – Yaesu FT-726R (HF, 2M, 70cm, Sat Mod) with a Mirage D1010 70cm Linear Amplifier at 100W PEP with a Discone on HF, 10/10 Cross Yagi (RHCP) on 2M, and a 88 Element Yagi on 70cm, 2M and 70cm Yagi's mounted on a Kenpro KR250 Rotor and Kenpro KR500 Elevation Rotor. (8M Tower) Microwave Modules Masthead Pre-amp on 2M
HT –  Icom IC-V82, Kenwood TH-F7.
Mobile – Yaesu FT-8900R with 5/8 Antenna.
Packet/APRS – Kantronics KPC-3, Kenwood TK-760G, Slim-Jim Antenna.
Look up any callsign WorldWide:

Visit my Sample Sound page of contacts made:
About our Club:
I am a member of the North West Amateur Radio Club, head office in Klerksdorp.


Rudolf Nagel (ZS6FX)

This Page was designed with Microsoft Front Page 2003.
Last modified on: 23-02-2009