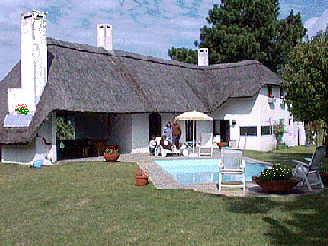 ZP5XF/CX Contest Station Punta del Este, URUGUAY


ZP5XF/CX is located in one of Punta del Este, Uruguay finest residential areas.Conditions on 10 and 15 meters from Uruguay to Europe, the USA and Japan are simply enviable. In the 1997 CQWW WPX CW contest....at the bottom of the solar cycle, ZP5XF broke the 1991 All Time South American Record (from Paraguay) and was only a few points away from the 1991 All Time World Record. In the 1997 CQWW CW ZP5XF broke the all-time World Record and was second only to Jim ZD8Z. Paraguay's all time CQWW SSB Record was broken in the recent 1997 Edition. Over 12000 QSOs have been made from ZP5XF in 1997.
Hams can sign-up any the time to contest from ZP5XF/CX.
My wife Belen, ZP5BEL/CX, is a grat contest fan and cook....being Italians, pastas are always on the menu ;-). Our 5 children are "famous" for causing very little "Local QRM".
We have daily direct flights coming in from Europe and the States.
Don't hesitate in asking for more information. Look forward to having you in Uruguay very soon 73s de Renato (Ray ZP5XF/CX) and Belen (Bem ZP5BEL/CX)...CU in the Contest !!!
A little bit about myself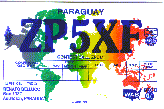 My name is Renato Bellucci. I was born in Bangkok, Thailand, by Italian parents, on December the 17th (Beethoven's Birthday) 1961. At that time, my parents were UN diplomats in the Middle and Far East. My father, ZP5XFB was in charge of the "Radio Field Operations" during the Viet Nam War and, just like his father before him, mastered CW . After 4 years in the Middle and Far East, my parents returned to Italy and left diplomacy to get involved in commerce. CW is now, and has been ever since my father's passion. My whole family moved to South-America in 1976 -when I was 14.
I have been trained as a musician (Classical Guitar
) from the early age of 8, and, even though I pursued a BA in English Literature, music has been my way of life for many years, I teach guitar at my own academy in Punta del Este and play regularly in Uruguayan night clubs and theaters. (I'll be more than glad to send you a copy of my latest CD-In CD or Cassette format- on request).
I have become personally involved in amateur radio in 1990 and, from the very beginning of my "passion", I have been a Dx-hunter. I have started mastering my CW skills only about a year ago (Since CW is not a requirement to obtain a license in Paraguay), and have become involved in contesting almost immediately -SSB mainly-.
As you can imagine, my station has gone through a lot of upgradings throughout the years and it's my main goal to take part and "fight" for top positions in all HF contests.
Belen, my wife, has been a licensed amateur for 2 years and has recently upgraded to General -and she has also "upgraded" to being mother for the 5th time- We are practicing Catholics and try to live accordingly... though we share our home and warmth with good friends no matter what their beliefes are.
---
[Contest Registry] [email protected]