AWARUA RADIO - VLB - ZLB.
Government (NZ Post & Telegraph) Telecommunications station.




Early notes on ZLB Awarua Radio
Researched by Jack Fox ZL4ND from documents at the Hocken Library, Dunedin


ZLB, or Awarua Radio as it was known, began operating on December 18, 1913 to provide ship to shore communication and weather reports of the southern ocean.

Built by Telefunken, who had the contract for two other stations in New Zealand, the Germans were attracted by the terrain of Awarua for effective transmission and receiving by being similar to the large plain at Nauen, 40 kms from Berlin and QTH of Telefunken's test station.

With the forecast of war with Britain there was belief that the Germans were hastening to complete there assignment for Germany's benefit!

By 1924 ZLB became a vital link with whaling ships travelling to and from the Ross Sea. Awarua was the only communication channel with the outside world for these expeditions.

---
Further from Alan ZL4PZ..........

From the reverse of a 1988 commemorative QSL card, the following .....
"Awarua Radio/VLB commenced operation on 18 December 1913, using a 50KW Telefunken spark transmitter. The antenna was an umbrella type on a 410 foot high mast which weighed over 120 tons and sat on glass insulators. The callsign changed to ZLB on 1 January 1929. Today, the station continues to operate, providing radio communications with international shipping and remote localities on frequencies from 500kHz to 22MHz."

See commemorative amateur radio QSL card below - for a contact made between Tony ZL4DE (at Awarua) and Con Stiglish ZL4DU. The contact was via the Dunedin 690 VHF repeater on 24 November 1988. The photograph on the card is of Awarua Radio as it was during the 1920-30's.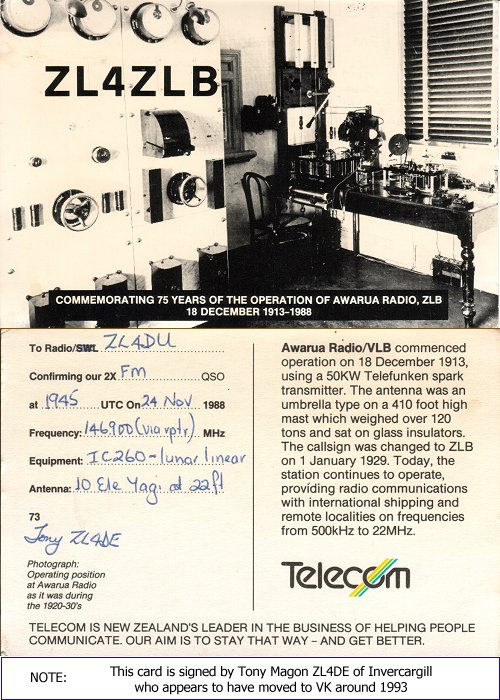 It appears that the majority of technicians who served at Awarua Radio held an amateur operators certificate. Surprise, surprise. A search of my callsign database reveals that at least 30 had an amateur callsign while located at Awarua. I have extracted those who had Awarua in their address and sorted them by the date of callsign issue. View List. Remember that in the earlier years of amateur radio, callsigns could NOT be moved about the country at will as they can today, especially if the amateur moved from say ZL1 area to serve at Awarua like Keith EDGINTON (ZL1AON) who changed to ZL4CP and later reclaimed ZL1AON after leaving the ZL4 region.



Alan ZL4PZ

>>>> Next Page