June 2013 edition Compiled by Fred Johnson MNZM ZL2AMJ (ARX2106)
A Team of Approved Radio Examiners is ready to answer your enquiry
 

You wish to be a radio amateur?
<![if !vml]>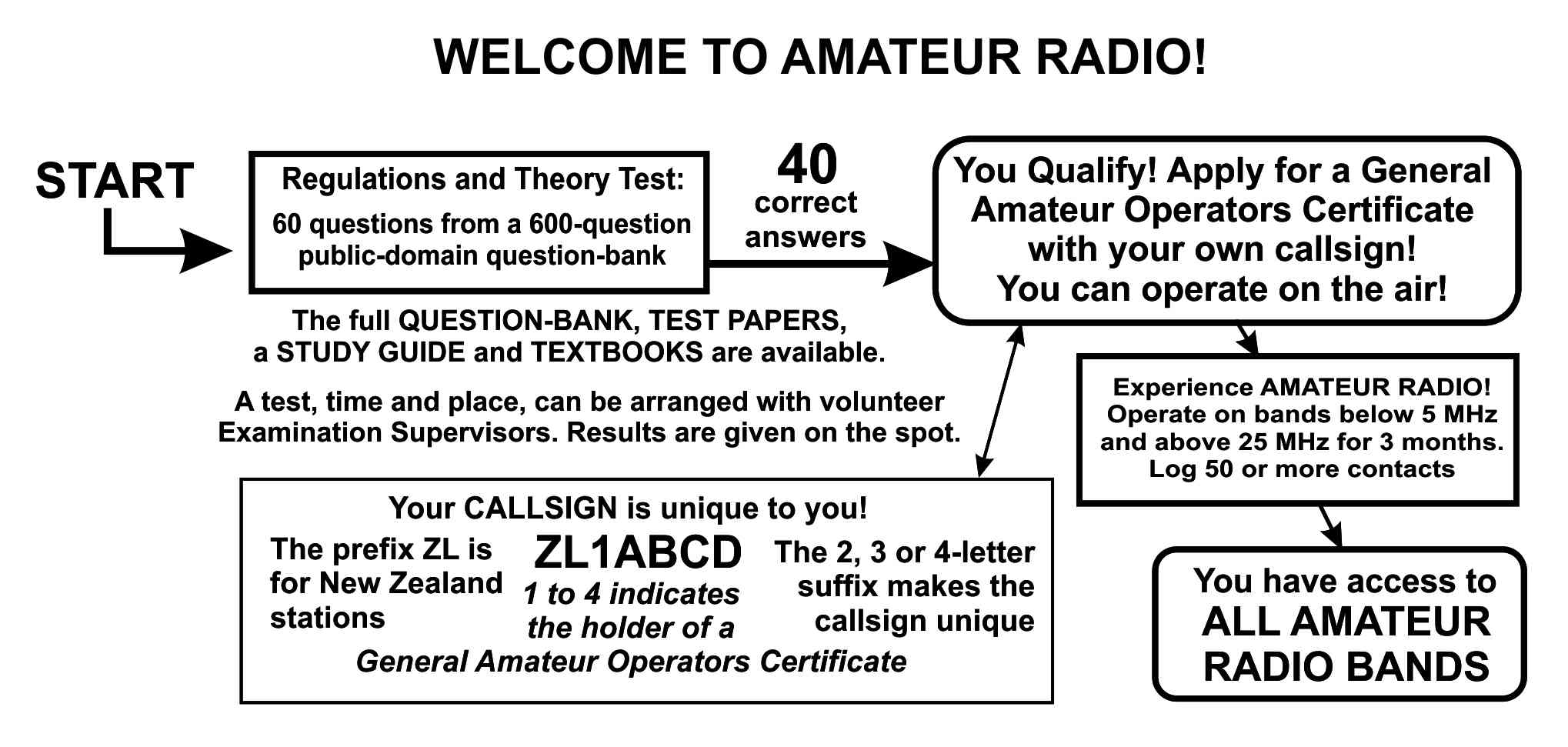 <![endif]>
Prepare yourself!  Use these free books!
Download and print double-sided:
BOOK 1 "What YOU do ...to Become a Radio Amateur". The Syllabus and other features of the examination system. (13 pages.)
BOOK 2 "All you need to know...to BECOME a RADIO AMATEUR!". A theory text-book, or, if required, classroom "hand-out" notes. (130 pages.) "Quick Indexing"*.
- - - - - - -
BOOK 3 "The Amateur Radio Question-Bank (WITHOUT Answers)". All the genuine questions for self-testing! (60 pages.) "Quick Indexing"*.
BOOK 4 "A Sample examination paper (WITHOUT Answers)", with a candidate's answer sheet. (12 pages.)
- - - - - - -
BOOK 5 "The Amateur Radio Question-Bank". The MASTER copy of the Question-bank for this examination system.(60 pages.) "Quick Indexing"*.
BOOK 6 A short "Statement" version of "The Amateur Radio Question-Bank". All questions and answers without distractors! (30 pages.) "Quick Indexing"*.
- - - - - - -
The EXAMINATION:
The Syllabus content is divided into 60 "Clusters". (See Book 1)
The Examination Question-Bank has
600 questions spread into 60 Clusters,
i.e. 10 questions in each Cluster. (See Book 5)
Examinations are 60 questions, one randomly selected from each Cluster. All examination papers are different. (Book 4 is a typical example)
A pass is 40 or more correct answers.
The Question Numbers:
Each question is identified by a Cluster Number (01 to 60) and the number within the Cluster (0 to 9).
The correct answer choice may also appear:
For example:
  23-7-(c)   =  Cluster 23,
        Question 7 in that Cluster,
           c is the correct answer.
*"Quick Indexing":
Navigating between books and tracking questions is easy!
<![if !supportLists]>1. <![endif]>The CONTENTS list on the first page of BOOK 2 is clearly visible through the transparent plastic front cover sheet. The subject topics for the Study Notes and the relevant Syllabus (Cluster) Numbers are listed.
<![if !supportLists]>2. <![endif]>The footnotes at the bottom of each page of the Study Notes in BOOK 2 show the relevant Syllabus (Cluster) Numbers and the Cluster Name.
<![if !supportLists]>3. <![endif]>The Question-Banks (BOOKS 3 and 5), have all the ten questions in a Cluster on one page - and the page number is the same as the Cluster Number!
Check your study progress!
The 600-question examination Question-Bank is in two Books:
Book 3 – all answers have been removed,
and,
Book 5 – has the answers to all questions.
You can easily self-test yourself!
Use Book 3 and attempt (say) question 5 from clusters 1 through to 60.
Note your selections on the chart inside the back of Book 2, page 129. (Print that one page.)
Then check your answers using Book 5 – mark your own paper.
Two students can work together: One has the answers, and quotes a Question Number. The other locates the Question and states the answer – to be told if it is right or wrong and - discuss the topic. Keep a score!
Test yourself regularly to monitor your progress - with a real exam!
Here is a Bank of Examination-Papers! Pick a paper, print an Answer Sheet – and try a real examination!  Repeat daily as your study progresses!
- - - - - - -
Computer demonstrations to support your studies:
Moving diagrams to supplement your study:  View on-screen, (may not work with some browsers):
  Resistor Circuits    Alternating Current    Radio Waves    Standing Waves
- - - - - - -
Ask your computer to present test papers to you On-Screen!
You can practice answering real questions from the New Zealand Amateur Radio Examination question-bank on-screen and track your score too!
Click here and log-on  Click  on "New Zealand" in the left-hand column to load the New Zealand Question-Bank.
This facility has been kindly provided by KD0FNR.
- - - - - - -
Are you are ready to be examined?
Contact your local Amateur Radio Club or an ARX.
A formal test can be arranged, for a mutually-agreed time and place.
_____________________________________________________________________________
[  Experimental Area:
Try running a Text-to-Speech file on your Android SmartPhone!
Revise your studies by having the contents of Book 6 read to you.
An experimental Book 6 Speech file is being edited for best results. It is being developed as an aid for the visually-disabled.
Many Android Apps are available for text-to-speech and pdf-to-speech. There are so many, each with different voices available, so recommendation is difficult. Try them. An especially-edited Book 6 Speech file is available for you to try on a no-guarantee trial basis. Enquiries are welcome. Your feedback comments will be appreciated.  ]
- - - - - - -