Whitford ATV Repeater Site
Whitford 23cm Repeater
An ATV beacon / Repeater is running in the building at right, furthering the coverage that would be normally be blocked due to hills and ridges from the main ATV repeater.
Input 1 is 615MHz Vision, 620.75MHz Sound, from the main Amateur TV repeater, ZL1BQ.
Input 2 is 1284 MHz FM video, approx 15 MHz bandwidth, with intercarrier sound at 5.5MHz / 5.74MHz.
The output is 1248 MHz FM video at 10 Watts into a 10 element panel array, directed across the bulk of the city. Coverage is across 90 deg approx, so a system of 2 panel arrays for receive and another 2 for transmit are being considered.
ATV Controller
The repeater is controlled by a 68HC11 based microcontroller programmed by ZL1QF. Connections are by standard DB25 connector, as shown below. This connection layout was primarily used at the Nihotipu ATV repeater site, and the Whitford site has inherited the architecture.
Note that some inputs and outputs are not implemented, as the hardware is yet unavailable.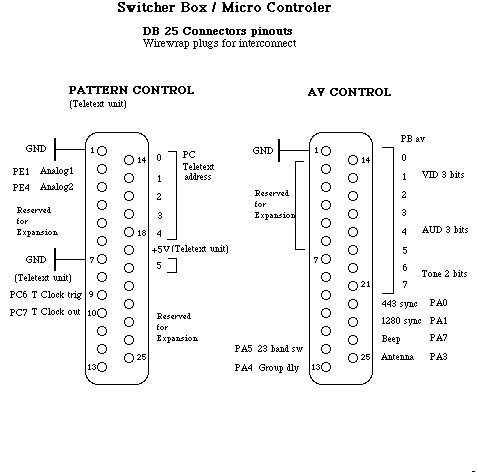 Pattern Control

| | | | |
| --- | --- | --- | --- |
| Pin | Usage | Action Low | Action High |
| 1 | Ground | - | - |
| 2 | Port E 1 - Analogue Input 1 | | |
| 3 | Port E 2 - Analogue Input 2 | | |
| 4 | Reserved for future expansion | | |
| 5 | Reserved for future expansion | | |
| 6 | Reserved for future expansion | | |
| 7 | Ground | - | - |
| 8 | Unused | | |
| 9 | Port C 6 - Talking Clock Trigger | | |
| 10 | Port C 7 - Talking Clock Output | | |
| 11 | Unused | | |
| 12 | Unused | | |
| 13 | Unused | | |
| 14 | Teletext Page Address Bit 0 | Pages 0, 2, 4 etc | Pages 1, 3, 5 etc |
| 15 | Teletext Page Address Bit 1 | Pages 0-1, 4-5, 8-9 etc | Pages 2-3, 6-7, 10-11 etc |
| 15 | Teletext Page Address Bit 2 | Pages 0-3, 8-11, 16-19 etc | Pages 4-7, 12-15, 20-23 etc |
| 16 | Teletext Page Address Bit 3 | Pages 0-7, 16-23, 32-39 etc | Pages 8-15, 24-31, 40-47 etc |
| 17 | Teletext Page Address Bit 4 | Pages 0-15, 32-47 | Pages 16-31, 48-63 |
| 18 | + 5 Volts | | |
| 19 | Teletext Page Address Bit 5 | Pages 0-31 | Pages 32-63 |
| 20 | Reserved for future expansion | | |
| 21 | Reserved for future expansion | | |
| 22 | Reserved for future expansion | | |
| 23 | Reserved for future expansion | | |
| 24 | Reserved for future expansion | | |
| 25 | Reserved for future expansion | | |

AV Control

| | | | |
| --- | --- | --- | --- |
| Pin | Usage | Action Low | Action High |
| 1 | | | |
| 2 | | | |
| 3 | | | |
| 4 | | | |
| 5 | | | |
| 6 | | | |
| 7 | | | |
| 8 | | | |
| 9 | | | |
| 10 | | | |
| 11 | | | |
| 12 | | | |
| 13 | | | |
| 14 | | | |
| 15 | | | |
| 15 | | | |
| 16 | | | |
| 17 | | | |
| 18 | | | |
| 19 | | | |
| 20 | | | |
| 21 | | | |
| 22 | | | |
| 23 | | | |
| 24 | | | |
| 25 | | | |
Bandplans