The following are things I will long remember about
YL2000 ........... Lynette ZLlULM
FRIDAY EVENING
My first card exchange on Friday evening with Nozomi JH3SQN and her OM Ken JH3SQM and many photos being taken by him. Exchanging cards and gifts with many nationalities.
EATING TOGETHER
Meals spent with YLs and OMs from Korea, Sweden, Japan, Australia.
THE KOREAN YLS SINGING
The Korean YLs singing in the "cathedral" at Waitomo. Their unique version of Pokarekare Ana at the dinner at the Novotel.
AWARDING POINTS FOR THE YL2000 AWARD
On the Sunday giving points for the YL2000 Award to 20 visitors from nine countries in about half an hour, Celia ZLlALK or Rosemary ZLlWRO giving them another point to allow them to receive their award at the dinner. Meeting ZL YLs I had not met before and exchanging points for the awards,

SIGHTS TO BEHOLD
The floodlit Mormon temple on the way back from Vilagrad.

THE FOLLOW UP EVENING AT THE PAPAKURA RADIO CLUB
The excellent follow up evening at the Papakura Radio Club where over 20 YLs and OMs who were leaving NZ the next day came for a meal. It was good to be recognised there by YLs I had met and also meeting up with others I had missed at the weekend.

PHOTOGRAPHS - KEN JH3SQM
Lots more photographs being taken especially by Ken JH3SQM.
ELLA GOFIP
Speaking on the radio to Ella GQFIP from England so I had contacted visiting amateurs in ten countries.

BIRGITTA SMOFIB
With Jacqueline ZLlJAQ giving Birgitta SMOFIB the necessary points for the YL2000 award. Exchanging addresses with Birgitta and seeing the various QSL cards from countries she had worked including Russia and Zimbabwe.


IMPETUS TO UPGRADE MY CALLSIGN
I hope meeting the overseas YLs will give me the enthusiasm to study morse again so I can talk to those I met.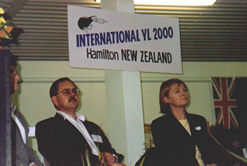 It was the biggest DX event ever held in New Zealand What a celebration! Thanks to Bev ZLlOS, Biny ZL2AZY, Carol ZL2VQ, Cathy ZL2ADK, Jill ZL2DB0, and EVERYONE who came. This Bulletin tries to capture the special atmosphere of YL2000 that ALL who were there created ....