AWARDS & CONTESTS

---
WARO AWARD
GENERAL
Contacts may be any mode, any band or mixed, with applicants contacts all from the same QTH ( except as in VHF Section), but contacts via repeaters, in WARO Nets or contests are not eligible. No QSLs required. Send full log details certified by one other licensed radio amateur to Awards Custodian:-Lynnette Mcdonald 25 John Street Pukekohe 1800 New Zealand with sufficient postage for return of award.

---
HF SECTION
ZL and VK stations work 10 WARO members resident in New Zealand, DX stations work 5. Endorsement seals available to ZL and VK stations for each additional 10 contacts DX stations 5. Contacts with DX members of WARO qualify for endorsements but applications must contain at least three ZL contacts.

---
VHF SECTION
Stations work 10 WARO members on VHF or UHF. (Repeaters allowed ) Endorsement seals for each additional 5.
---
SWL SECTION
ZL and VK stations list 20 contacts heard with WARO members, DX list 10. Send full log details with call-signs of both stations. Endorsements for each additional ten (five for DX stations).

---
NZWARO CENTURY AWARD
1. Applications to contain full log details of contacts with 100 NZWARO members (DX members included) dating from June 1 1987. DX stations may apply for a special DX Award listing 50 contacts only, with endorsements for further 10s until 100 contacts are achieved.
2. Contacts may be any mode, any band each member claimed must be a financial member of NZWARO at the time of the contact and may be counted once only.
3. Contacts made on repeaters and in nets will qualify, and Contest contacts made after June 1 1990 will be accepted.
4. No QSLs required. Send list of log details to Awards Custodian Lynnette Mcdonald ZL1LL 25 John Street Pukekohe 1800 New Zealand with sufficient postage for return of award.

---
NEW ZEALAND MOUNTAIN BUTTERCUP AWARD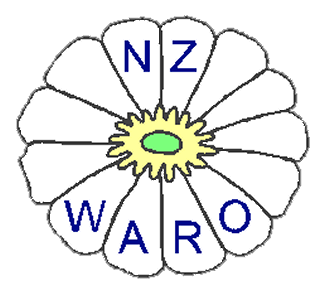 For contacts with licensed NZWARO members, resident, visiting, mobile, etc, in the 60 towns named in the official list. WARO members working mobile, portable, etc. may claim the relevant town for her own credit.
Basic award is available for list of 15 contacts with endorsement seals for each further five contacts up to the full 60 required. Applicants submitting a list of the full 60 valid contacts will receive a special endorsement making the award distinctive from those gained for the lesser number of contacts
Contacts may be any mode, any band or mixed and made from any QTH, but each YL worked must be a financial member of NZWARO at the time of the contact and must be within a 25 Km radius of the center of the town claimed.
Contacts made via repeaters, in nets and in contests will qualify and the same WARO members may be contacted in any number of towns.
Award dates from January 1 1989. Send applications after 30 contacts containing full log details with the name of YL and town where worked, signed by one other radio amateur, together with $2.00 to Custodian:- Lynnette Mcdonald 25 John Street Pukekohe 1800 New Zealand. An official list of towns required to be worked available from the Awards Custodian upon receipt of stamped addressed envelope. No QSLs required.
A different series of endorsement seals is available for each further 10 contacts (after the basic 60) using the same list of towns. The same WARO members may be worked but each must be in a different town to where previously claimed. Please send SAE with endorsement applications.

---
THE WARO ACHIEVEMENT AWARD
NZ WARO Achievement Award.
Remember to start thinking about whom you would wish to nominate for the Rosebowl and have
all nominations to the Secretary by March 31st for consideration by the June AGM.
The criteria are set out below:
The Previously named Myrtle Earland Rosebowl Award is now known as the
"NZ WARO Achievement Award" and replaces / combines the current Awards for
"WARO Amateur of the Year" and "Merit Certificate".
The winner, if any, will be announced by the NZ WARO President at the NZ WARO AGM.
The Award will take the form of the Myrtle Earland Memorial Rosebowl, which shall be retained
by the winner for the succeeding year, together with a suitably engraved shield to be kept by the
winner. Unsuccessful nominees may receive a certificate of Achievement.
Criteria
The nominee is to be a member of NZ WARO who has made a significant contribution in any
aspect of Amateur Radio, eg, Personal Achievement as a NZ WARO Member, Services to NZ
WARO, services to NZART at either Branch or National level, community service including Civil
Defence and SAR, DX Participation, contests, etc. The Trophy may not necessarily be awarded
every year, and when not awarded shall be kept in the NZ WARO cabinet at NZART Headquarters.
Nomination Format
Nominations to include a summary of the nominee's activities which need not be restricted to the
immediate preceding year, and are to be received by the Award Custodian on or before March 31
each year for consideration by the Executive.
Unsuccessful nominations may be remitted in the following years; however previous winners are
not eligible for further nomination for the same or similar achievements.
Please Remember - it is never to early to nominate a member for the NZ WARO Achievement
Award if you consider a particular YL meets the criteria as set out above.
Nominations received will be collated for Executive consideration following the
March 31 closing date.

---
THELMA SOUPER MEMORIAL CONTEST
The Thelma Souper Memorial Contest will held on the 10th and 11th April 2010
From 0800z - 1000z on Saturday and Sunday evenings.
All Contacts to be held on 80 meters phone or CW may be used.
YLs contact YLs and OMs. OMs contact YLs and OMs.
One contact with each station permitted in each half hour period.
Call "CQ WARO CONTEST" exchange report, serial number (commencing 001) and name.
To qualify as a multiplier WARO MEMBER stations must have contacts with at least 10 different stations.
A Bonus Station using the WARO callsign ZL6YL will be in operation for random periods and will count as a multiplier one on each night of the contest if worked.
Club stations may be operated by multiples of YLs providing that they are WARO members and have licenses applicable to the band being operated. These stations count as one multiplier.
All radio regulations must be observed.
SCORING:
To Qualify:
Enter date at beginning of each evening.
Each log must contain:
Time of Contact, callsign of station worked, cipher sent, cypher received and the name of the operator contacted and points claimed for contact.
Score 5 points for each WARO contact including ZL6YL .
Score 3 points for OM contacts, Score 4 points for non WARO stations. Multiply by the number of WARO members including bonus station if worked.
Logs to have each contact claimed as a multiplier underlined.
Include a separate summary sheet showing:
Your callsign, name and address.
The number of contacts.
The number of WARO members worked.
Your score.
Declaration that all radio regulations, have been observed.
Logs that do not comply with all the above requirements will be disqualified.
LOGS:
To reach the Contest Manager no later than May 1st 2010
Send to: -
Bev Osborne ZL1OS
34 Cobham Drive
Kawerau 3127
New Zealand
No logs will be returned and No Correspondence will be entered into.

AWARDS:
The highest scoring WARO member will be awarded the Thelma Souper Memorial Cup to be held for one year.
The highest scoring OM operator will be awarded a trophy to be held for one year.
Certificates will be awarded to:
The first three WARO members, the first three OM operators, the highest scoring VK/YL operator and highest scoring VK OM.
Please Note: Contacts made during the contest will count towards the NZ WARO Awards.

Updated on 2nd April 2010