CTHA Antenna
Since some time I wanted try the CTHA antenna, so I did look for some infos in Internet.
Not having found any clear information about how design a CTHA for a specific band I decided to build one using the materials available in the shack just to investigate its behaviour so to be able to scale it to some radio amateur band. With a flexible 7cm diameter tube I managed to build a toroid with a diameter of 60cm. On it I did wound 2 helix of 15 loop counter-wound.
<![if !vml]>
<![endif]>
I did put the CTHA on a plastic table in the garden connected with a RG58 cable and I did start to measure SWR using as source my IC-706 MKII at 10W and the SWR meter Revex W570.
I want to share the results of my investigation with colleagues OM as what I have found is really astonishing.
<![if !vml]>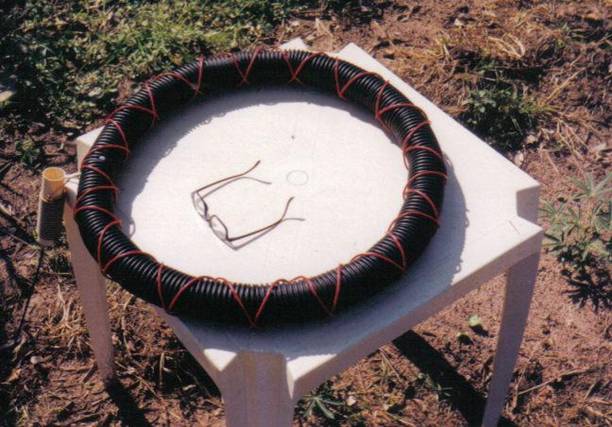 <![endif]>
I was looking for three resonances as described in the article "A Study of the CTHA Based on Analytical Models" by Douglas B. Miron, but with my surprise I found a lot of resonances with SWR exactly equal 1. Here is the list:
23.920
27.510
31.115
35.215
39.675
43.105
46.560
51.970
55.200
58.600
70.220
72.020
74.380
77.320
81.460
84.040
85.920
88.380
…… the IC706 do not transmit much in FM band
139.280
146.360
And maybe others.
Besides I noted that SWR is <=2 in the range 23.960 MHz to 8.880 MHz.
I wanted check if it is possible to tune the CTHA to a different frequency so I did connect a small variable capacitor between the cross of the two helices in the position just diametrically opposite to the feeding point. I have found that the resonances change their values. Here is a short list limited up to 60 MHz.
17.150
19.025 SWR=1.2
23.865
27.295
31.250
35.600
40.305
43.800
47.615
50.800
54.320
57.825 SWR=1.5
Where not stated SWR is exactly 1 !!
In the zone 15.940 MHz to 20.985 MHz the SWR is <= 1.5 with oscillations.
The resonances are quit wide: just an example: at 27.295 MHz the SWR is <= 1.5 between 26.590MHz and 28.220 MHz, actually a band usable of 1.630MHz !!
Just for fun I did replace the capacitor with a short-circuit. Not a great change ! here is the list of resonances with the short-circuit.
16.950
18.935
19.115
23.895
27.395
31.265
35.660
40.325
43.880
47.695
50.810
54.230
57.915 SWR=1.4
I had at hand an RG58 cable of 1.6m with connectors so I did insert it to make the total cable a little bit longer. Living the short-circuit in place here is the list of the new resonances:
22.615
25.690
29.395
32.790
36.790
40.780
44.000
47.015
49.715
52.280
55.430
58.560
Being SWR <=2 between 11.850MHz and 24.025MHz
It seems that the cable is participating to the value of resonances, but SWR is always just 1 !! this did puzzle me very much.
I have lifted the antenna on a wooden post and put it in vertical position getting some frequency shift of resonances.
I tried to do some numerology to correlate resonances with the antenna measures, but without any success.
A mad idea was tormenting me: I had the first time this idea when adjusting the 40m magnetic loop shown elsewhere on this site.
When used in the exact resonance frequency the antenna is "willing to transmit" with violence !!
I was using a power supply for the IC-706 made of two switching PC power supplies paralleled and modified to give 13.8V. The magnetic loop was un the roof of my pick-up and the IC-706 and the power supply was un the floor at about 5 meters. When sweeping the tuning knob of the transmitter, passing exactly on the frequency of resonance 7.060MHz, the emission was so violent to crash the power supply; I had to put another power supply old stile to go ahead in tests.
Coming back to the CTHA, I was thinking that at the resonances the antenna is so willing to transmit that, whichever is the Z of the cable, the reflected power is ZERO because it is all transmitted, giving an SWR exactly 1.
To verify this mad idea I did insert between the CTHA and the feeding cable a BALUN 4:1 that I had at hand, previously used for a folded dipole.
The idea was that if the impedance of the CTHA is 50 Ohm, putting the BALUN 4:1 the SWR should rise to 4 at least.
My mad idea has been verified !!! SWR at resonances is still 1 !! Here is the list of frequencies a little bit moved. (Short-circuit on the opposite side in place)
18.880
24.660
28.185
31.765
35.900
40.290
43.935
47.535
50.595
53.545
59.510
With SWR <=2 between 10.880MHz and 22.955MHz.
Further more now I have the following SWR in amateur bands:
20m 14.000 1.8
<![if !supportLists]>14.350 <![endif]>1.7
17m 18.068 1.4
<![if !supportLists]>18.168 <![endif]>1.4
15m 21.000 1.4
21.450 1.2
12m 24.880 1.1
<![if !supportLists]>24.990 <![endif]>1.2
10m 28.000 1.0
<![if !supportLists]>28.500 <![endif]>1.2
<![if !supportLists]>29.0 <![endif]>1.5
6m 50.000 1.3
<![if !supportLists]>54.0 <![endif]> 1.2 with two minima in the middle.
Isn't it astonishing ???
Well I do not know if it is an antenna or a dummy load but at least I do not need an antenna tuner !
Before putting the 1:4 BALUN I made a QSO with LU3DDH at 28.330MHz, but propagation was very bad.
I have got the idea that the best efficiency is between 70 and 50 MHz but I am not sure of this.
I nice test would be the following:
Put two equal antennas 100m apart, one with a TX and the other with an RX and plot the received field in function of the frequency. With such a setup should be evident where the antennas work better even if it is not possible to measure the real efficiency. I am sorry because I can not do this experiment because I do not have a second wideband RX an a friend to help me.
One more observation:
During the first day of tests, with the antenna horizontal at 70cm over ground on a plastic table I happened to tune at 52.765MHz a sub-harmonic of a local FM station (Radio San Pedro FM 105.5) at about 3 Km from my QTH. The S-meter was giving 9+60dB.
The following day, when the antenna was vertical tied to a pole, I wanted listen to some music, so tuned the RX to 52.765MHz…..but nothing at all !!
"Strange", I thought, "maybe it is not transmitting"….so just by accident I switched to an other antenna and the signal appeared !! S9+++
Never seen before such a big separations between orthogonal polarizations !!!!
So, I hope that this short note will stimulate further studies on this strange antenna.
Why it is bewaring in such a wide band mode ?
Which relation between the physical dimensions and the resonances ?
How to optimize the CTHA for HAM bands ?
Which efficiency may be expected for mobile use on 40m and 80m ?
73 de
Pino ZP4KFX 28th July 2006
(modified on 4th November 2006)