QRP - the art of low power communications Home
---
Under construction.. further information will be added...tnx for understanding!

This page is about sharing my experience in relation with QRP equipment and QRP operations.

ATS-3B.1

The Appalachian Trail Sprint III B (ATS-3B) is a 6 bands HF CW/Digital modes 5W transceiver that fits into an Altoids tin, designed by Steven Weber KD1JV. The digital modes are directly generated with its DDS. It can be operated even as base station when it is used in connection with a QRP Base Station Accessory (QBSA) extension, also designed by KD1JV. The operation with a higher power, 20W, is possible by connecting it to a JN1GLB Altoids PA.
The PSK31 operations are possible with a simple connection to a Pocket PC (PDA) when running PocketDigi (free) software.

The Operation and Assembly Manual for version 3B.1 run #4 (the last)
The OK1IAK's modifications/extensions
The AE5X's blog with some other info about ATS-3B

Norcal NC-20A

The NC-20A (as well as NC-40A) was a (only 500 kits) project of the Northern California (NorCal) QRP Club, being the first transceiver with integrated keyer, Audio Frequency Annunciator and a front end that is crush proof. Than, the Red Hot Radio (a small company that doesn't exist anymore) did produce a slightly improved version of this transceiver. Many further improvements were added by its users. The result was one of the best QRP transceiver. Even more, the 40m version was a subject of a book written by David B. Rudledge, KN6EK, for his students in electronics at California Institute of Technology.
The Electronics of Radio has laboratory exercises that lead the reader through the design, construction, and testing of this popular QRP transceiver.
Puff 2.1, the simulation software (not freeware) used in this book is available in the Resources and solutions section of the publisher website. The download link is here. I don't have any affiliation with Cambridge University Press; I just wanted to share with you a good resource, relevant for this QRP transceiver.

Heathkit HW-8

NN1G

FT-817ND

"Yaesu FT-817ND is a cool little toy";... You can read such statements in many QRP related pages. And I have to admit that it is fully true.
If we have to make an inventory of the existing features and performances available within 1 Kg package, I don't know if we can find too many others rigs having such features/size (high) ratio. There are available rigs having a bit higher dynamic range, or higher power, etc. But they don't have available all bands (HF+VHF+UHF) and all modes within such size and weight. And, I would say, the same price.
Overall, it is not a perfect transceiver, but it is a good trade-off between what you get and what you pay.
You have to keep in mind all the time that FT-817 is a QRP transceiver. Which means that you should not afford to use low efficiency antennas.
When you are operating QRP, your "enemy" is not the low power; it is the loss of power, produced by the usage of short antennas (comparable with the operating wavelength).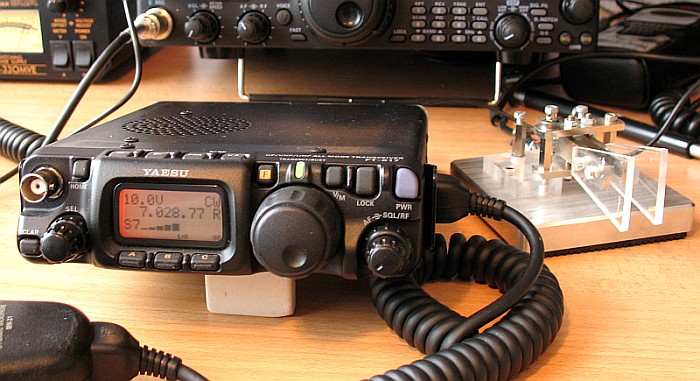 I was interested to measure the weight of FT-817 and its related components. Using an electronic scale, I got the following:
- the transceiver (itself), without battery pack: 926 grams;
- the battery pack: 205 grams;
- two rubbered antennas (as provided by Yaesu): 65 grams;
- the hand microphone: 170 grams;
- the DC cable + ferrite bed: 53 grams.
so, a total weight of around 1420 grams.
Audio speech compressor for FT817ND with SSM2216
During QRP SSB operating, the the speech processing is an almost essential feature to get through QRM and to increase the efficiency of transmitter PA.
SSM2216 is an IC containing a microphone amplifier with variable compression and noise gating. This is the block diagram:
.... other info will follow...
---