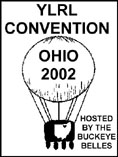 2002 YLRL Convention
15th International YLRL Convention
Aug 2-4, 2002 in Middleburg Hts, OH
---
The YLRL 15th International YLRL Convention in Middleburg Heights, OH is over!
The convention committee would like to thank all those who volunteered their time, donated door prizes, attended the convention, spoke at the convention or help us in any way. This convention couldn't have been the great success it was without all of you.
Jan WA2YL has pictures of the YLRL Convention online at Ofoto. Note: If you don't currently have an Ofoto account, you have to sign up, by click on the 'Join Now' link at the site, before you can view the pictures. It's free to join. These photos will be stored in your account for future viewing, and you can order Kodak prints of your favorites! So go and view Jan's photo online . If you find any errors, let Jan know.
My scanner is down so I haven't been able to get pictures up. If you have any pictures, stories and highlights of the convention you would like to send me, email them to me at [email protected]

---
Page last updated Sept. 7, 2002.
Return to Home Page
Return to Convention Page