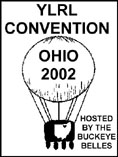 Convention Activities
for the YLRL 2002 Convention





A pdf version of the AGENDA for all convention activities is now online. I will try to get a Word (doc) and html version but with all the last minute plannings, I can't guarantee I will get it up before the convention.

The YL Business meeting will start at 9:30am on Saturday, Aug. 3rd. The location will be provided during the convention. The OMs will be going on the tour downtown at this time. I will try to include some of the agenda items here as I get them. If anyone has anything they would like to bring up or want discussed at the convention, contact the YLRL president, Kay WA0WOF at

[email protected]

The YL Luncheon follows the YL Business meeting and will consist of a buffet lunch. The convention committe is proud to have Diane Ortiz K2DO, who writes the YL column for QST as our guest speaker. There will also be a short memorial service for those YLs who are now SK. Other than seeing each other, some whom we've only know from talking on the radio, the highlight of the YLRL Convention is the banquet. Due to recent events occurring within the ARRL, we have had to select a new Master of Ceremonies for the banquet. Joe Phillips, the ARRL Ohio Section Manger is our new Master of Ceremonies. Our keynote speaker is ARRL's second vice president Kay Craigie, WT3P. There will be also be more door prizes awarded, the award of the main prize, the selection of the winner from the quilt raffle and the YLRL president, Kay WA0WOF will recognize various YLRL members for their work and dedication to YLRL. It is an event that is not to be missed. As all good things must come to an end, the Farewell Brunch is where we say goodbye to all the wonderful friends we met and made during the convention. I am sure some tears will be shed as we leave but all we have to do is remember that the next convention will be in 2005 in Colorado and we will see each other again!
---
Return to YLRL homepage
Return to YLRL Convention
Last updated July 24, 2002