Investigative Report:
Voice of Southern Azerbaijan
By Nick Grace C., March 1, 1998
Revised April 13, 1998

The Voice of Southern Azerbaijan (VOSA), active since 1996 with broadcasts against Iran from an undisclosed transmitting location, is quickly becoming an intriguing story. A story that not only includes oil and politics, but also espionage, the Mossad, and players from the Iran-Contra scandal of the 1980's.

When it was first heard, radio monitors assumed that it was broadcasting from Turkmenistan, however, an Israeli connection slowly came to light as more people tuned in. According to monitor Nikolai Pashkevich in Russia, "when I tuned in my receiver to this channel I found an open carrier with 'Reshet Bet'... on the background and then VOSA signing on" (CDX 180). Rashet Bet is, of course, a news service of Israel Radio. The German Telecommunications department has also pinpointed VOSA's location to be somewhere around Israel, Jordan and Saudi Arabia (BCDX 351.) Cumbre DX founder Hans Johnson notes in Cumbre 179 that the station "switches to DST the same time that Israel does," marking Israel as the primary target (CDX 179.)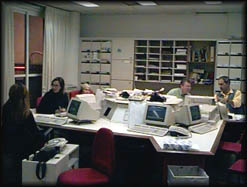 Rashet Bet office (courtesy of Rashet Bet)


Further evidence surfaced in April 1998 when a "mixing product" was observed between VOSA programs and KOL Israel transmissions. A "mixing product" is an extraneous signal that is produced when two transmissions are made in close physical proximity. This "product" has been heard on 21425 kHz. Wolfgang Bueschel states in DX Window 111 that at the same time VOSA is on the air between 1530 and 1630 UTC, KOL Israel transmits on 17535, 15650, and 11605 kHz. When the first KOL frequency is multiplied twice and then subtracted by the "product" frequency, VOSA frequency mathmetically appears: 13645 kHz. (DXW 111) Of all the evidence, this is clearly the most compelling.

If this is the case, then VOSA is clearly supervised and arranged by Israel's intelligence agency: the Mossad. Both Kai Ludwig and this author made the connection after reports began to surface in late February 1998. But the story becomes more complicated and interesting.

According to Wolfgang Bueschel in BCDX 351, "Mr. Vafa Culuzadeh, adviser of former Azerbaijan President Ebulfez Elicibey, told the Italian press agency IPS in October 1992 from Baku, that the Israelian secret service specialist David Kimche and... Richard Secord, who was involved in the Iran-Contra-Affair, visited Azerbaijan, (and) presented a delegation of more Israelian secret service personnel. Mr. Culuzadeh took part on a return visit to Israel, (and) lead a delegation of Azerbaijan/Uzbek/Kazakh secret services" (BCDX 351.)

Vafa Culuzadeh, despite the quote above, is an adviser to the current Azeri president (Heydar Aliyev), and has been an important negotiator between Azerbaijan and Armenia, as well as between Armenia and secessionists from Nagorno-Karabakh.

David Kimche is a 30-year veteran of the Mossad and was an important force behind the Reagan administration's arms-for hostages swap with Iran and its secret aid to the Nicaraguan rebels (coined Iran-Contra.) In fact, it was Kimche who helped to organize the Contras, who supplied them with Israeli military advisers, who sold the US government Palestinian weapons Israel had seized in 1982, and who claimed he could get access to the hostage-takers in Lebanon. He was not indicted because of diplomatic scuffling between Israel and the United States. Kimche was the former Director General of the Israel's Ministry of Foreign Affairs and currently heads the Israel Council on Foreign Relations. He is also on the Board of Directors for Israel's International Policy Institute for Counter Terrorism (ICT.)

Retired Air Force Major General Richard Secord was also a key player during the Iran-Contra scandal. He earned his wings while flying for "Air America," the CIA covert paramilitary operation in Laos that supplied local Hmong tribes with arms and training to counter the Communist Laotian regime. He wrote a memoir, "Honored and Betrayed: Irangate, Covert Affairs, and the Secret War in Laos," in 1992 to detail his involvement with the CIA and service to the American government. He was one of the Iran-Contra players who set up the "Enterprise," the company outside of the CIA that earned money and lined the pockets for those involved.

The involvement, if any, of the above three individuals with VOSA is unknown at the present time. It is interesting to note, however, that the address VOSA announces in Austria is addresses as "Vosa, Ltd." Both Secord and Kimche made money off of Iran-Contra arms sales. Could the organizers of VOSA also be making money?


Front for the National Independence of South Azerbaijan


Azeris are the second largest ethnic group within Iran, therefore, any attempt to organize them against the Iranian government would be perilous for the country. (Ramezanzadeh.) In fact, Human Rights Watch reports that between 15 and 20 million Azeris reside in Iran, and that they "inhabit a strategically important, prosperous area in northwest Iran, relatively close to Tehran" (HRW.) In 1996, the nightmare for Iran started to become a reality when four Southern Azerbaijani (Iranian) political parties merged under the umbrella of the Front for the National Independence of South Azerbaijan (FNISA.) The government in Tehran, however, claims that Azerbaijan should be incorporated into Iranian territory since it was once part of ancient Persia. "The Azarbaijan Republic once was ours. So, if there is any talk of unification of the two Azarbaijans, it is they who should come back to Iran .... Some agents of world arrogance are trying to damage our national unity by spreading secessionist sentiments in our region," Ayatollah Mohsen Shabestary stated during Friday prayer in Tabriz, May 1996 (ibid.)

Iranian government officials often alledge Turkish involvement with FNISA - not Israeli nor the Mossad. However, a recent scandal developed between Israel and Switzerland after Mossad officials were caught engaging in espionage against Iranians (Schlein.)

Radio VOSA announces two telephone numbers at the beginning of their broadcasts, reportedly at 1633 GMT. Wolfgang Bueschel writes that he has called one of the numbers and reached an answering machine in the Azeri language (BCDX 351.) According to the BBCM, representatives for the station say that its programs are about "the daily life of the people of Southern Azerbaijan under Iranian oppression, the struggles of our brothers who live in Northern Azerbaijan (Republic of Azerbaijan), their long standing war with the Armenian enemy who receives help from Iran, programmes about our Azeri inheritance, our great history and civilization..." (ibid.)

The address VOSA announces is: Vosa Ltd., Postfach 108, A-1193 Vienna, Austria, and the telephone number is: +31 307-192189.

Listeners may try to hear broadcasts of VOSA during the following time frames:
| | |
| --- | --- |
| Time | Frequency |
| 0615-0715 | 11934.9 kHz |
| 1630-1730 | 7095 kHz |
This article will be updated as more developments unfold.

Bibliography


"David Kimche." ICT Board of Directors.
"Iran: Religious and Ethnic Minorities." Human Rights Watch / Middle East. September 1997.
"Two Azerbaijan (North and South): A Common Past and a Common Future." Qurtulus Homepage.
BCDX 351, March 1, 1998.
Cumbre DX 180, March 5, 1998.
DX Window 111, April 12, 1998.
Ramezanzadeh, Abdollah. "Iran's Role as Mediator in the Nagorno-Karabakh Crisis." Contested Borders, Chapter VII.
Schlein, Lisa. "Israeli Spies." VOA News. February 26, 1998.