SPECIAL ANNOUNCEMENT
DANNY, WA4SDE, WILL HOLD TUBE NIGHT ON THE LAST MONDAY OF THE MONTH AT 8:00 PM. 3 TUBES OR MORE IN THE TRANSMITTER.. CHECK BACK FOR FURTHER DATES AND TIMES.

TO ALL,
HOPE YOUR WEATHER IS GOOD. IT'S PRETTY NICE TODAY, BUT WE HAVE HAD SOME PRETTY HOT DAYS WITH SEVERE STORMS IN THE EVENINGS.
THE FOLLOWING ARE SOME PIX WITH SOME EXPLANATIONS TO HELP YOU UNDERSTAND THE PIX, I HOPE.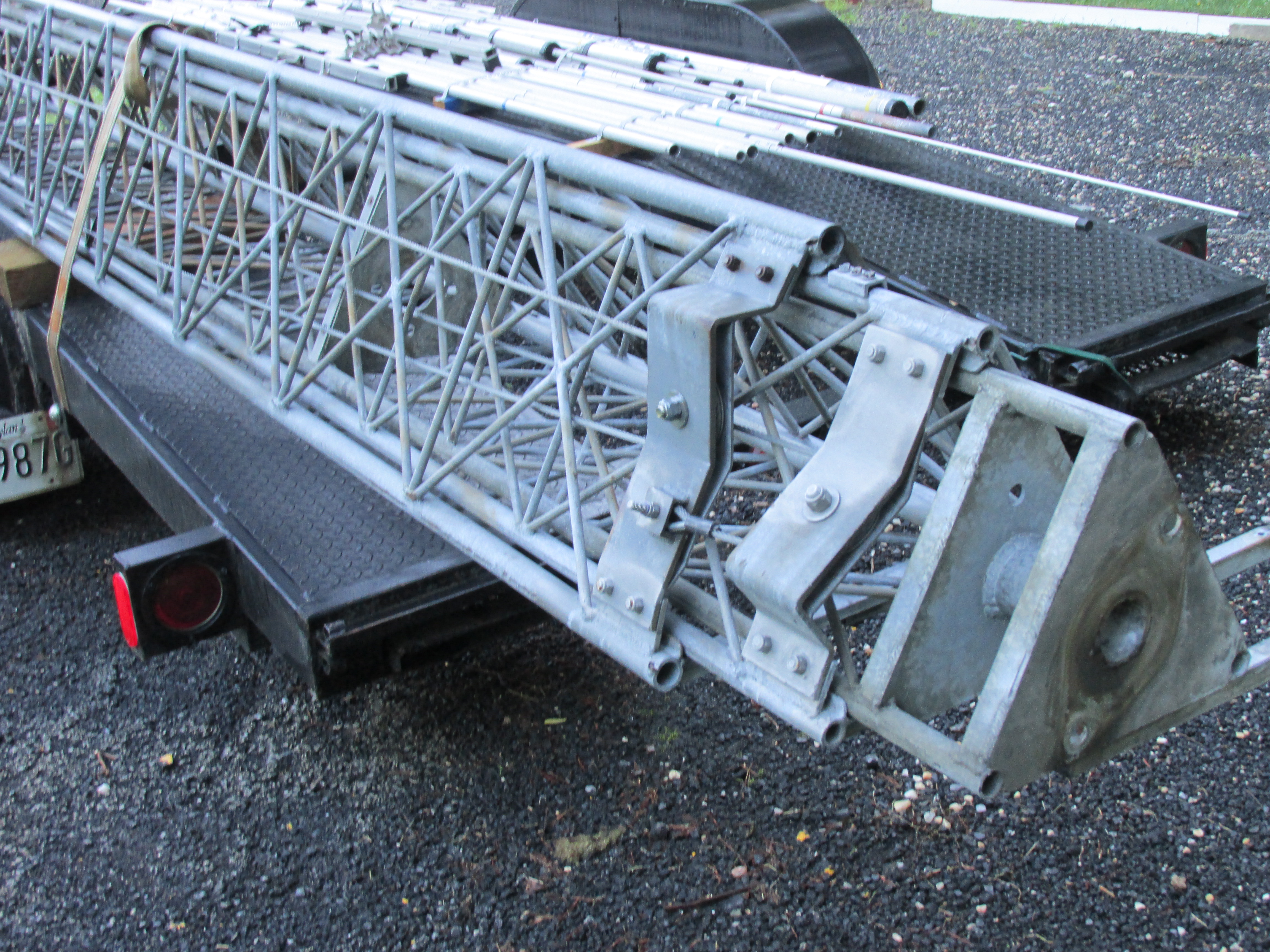 TOP OF THE TOWER WHERE THE THRUST BEARING BOLTS UP
TOWER STRAPPED TO TRAILER
CLOSER VIEW. NOTE TWO PLACES COVERED WITH PLASTIC. ONE IS TELESCOPING WINCH FOR THE TOWER ITSELF. SECOND IS ATTACHMENT WITH PULLEY FOR TILTING MECHANISM CABLE TO CONNECT.

TELESCOPING WINCH.
ATACHMENT ON TOWER WITH PULLEY FOR CABLE FROM TILTING MECHANISM TO THREAD THROUGH.
TILT OVER MECHANISM. MOUNTS TO THE TOWER BASE PLATE. I HAVE A JACK USING THE WEIGHT OF THE TRAILER TO SECURE IT. NOTE THERE IS AN EXTRA HOLE IN THE BASE PLATE FOR THE MAIN PILLAR TO ATTACH. THE LOWER HOLES OF THE TWO TOWER MOUNTING PIVOT BRACKETS ARE USE FOR THE FINAL SIDE PILLARS TO CONNECT. THESE BOLTS ARE PURPOSELY LONG TO ACCOMMODATE THE TILTING FIXTURE SIDE PILLARS. THESE ARE THE SAME BOLTS LEFT IN THE BASE PLATE TO LET THE TOWER PIVOT. FOLLOW ORANGE STRAP FOR TILT CABLE CONNECTION TO TOWER PULLEY.
TOWER BASE PLATE FOR MOUNTING TO CONCRETE USING (3) 1" GALVANISED HOOK ANCHOR BOLTS. SEE SPECIFICATION SHEET FOR LENGTH, ETC. NOTE HYDRAULIC JACK HOLDING PLATE SECURE WITH WEIGHT OF TRAILER SO I COULD ASSEMBLE THE TILTING FIXTURE TO SHOW YOU HOW IT LOOKS AND SO YOU CAN SEE HOW IT WORKS.
ALSO NOTE SIDE PILLARS OF TILTING FIXTURE USE LOWER PIVOT HOLES IN TOWER MOUNTING BASE PLATE WITH LONGER BOLTS. OF COURSE SHORTER BOLTS IN TOP HOLES ARE REMOVED WHEN TILTING IS CONTEMPLATED.
ORANGE TIE STRAP LEADING YOU TO WHERE THE CABLE PULLEY IS LOCATED ON THE TOWER FOR TILTING WINCH.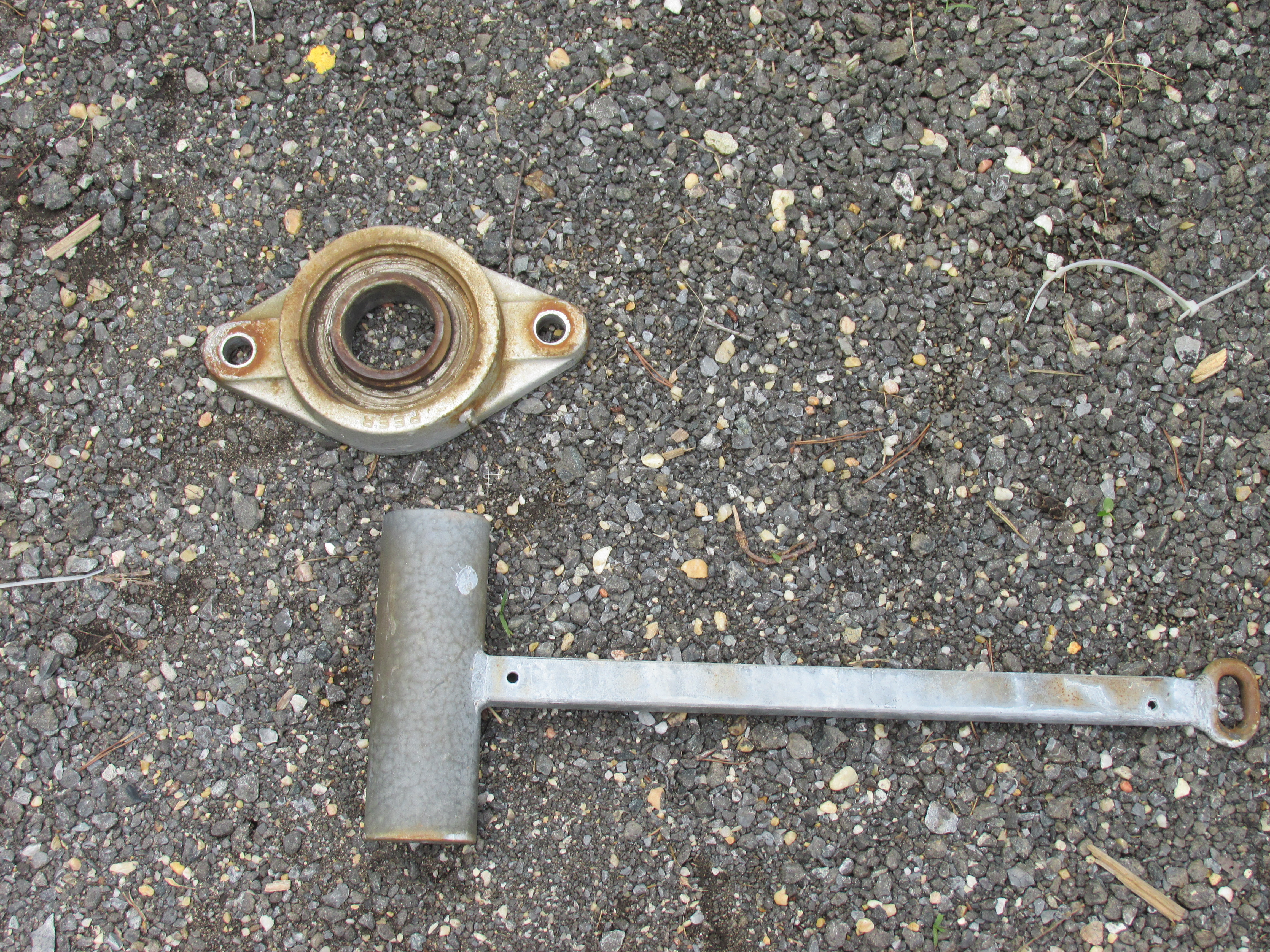 SWING ARM AND THRUST BEARING.
DIFFERENT ANGLE OF BASE PLATE AND MOUNTING OF TILTING FIXTURE.
CABLE FROM TILTING WENCH GOES TO PULLEY ON TOWER. FOLLOW ORANGE STRAP ON PICTURES.

WINCH ASSEMBLY ON TILTING FIXTURE. THIS WINCH HAS AN AUTO BRAKE. SIMPLY AWESOME.
I HOPE THIS HELPS YOU UNDERSTAND BETTER THE OPERATION. OF THE TX 455 AND THE ACCOMPANYING TILT-OVER FIXTURE.
73. JIM